New GHS Mural Aims to Inspire Athletes, Enhance School Grounds
September 22nd, 2021
Note: this text is unedited.
By Kara Rivenbark, Glenelg High School senior
The idea for the mural sprang up during a normal day of track practice. My friends, Sierra and Dayna Rohmann, and I were doing a workout on the track, where we happened to be looking at the long grey wall beside us. A mural was already on this wall depicting a gladiator next to the words: Welcome to the Colosseum. Now I always thought that this was very creative, as the sports being played on the track are being pitted team against team, fighting for the glory of taking home the victory – just like the gladiators in a Roman Colosseum. So, as my friends and I were running around the track, this happened to be on our minds. Stopping for a rest, Sierra asks, "wouldn't it be cool to have Colosseum arches run down that wall?" Immediately agreeing, Dayna and I added onto this. Inside we could have gladiators preparing for a fight, or the eyes of a tiger peeking out of the gloom. Of course, we were just having fun. None of us thought that this idea would ever become a reality.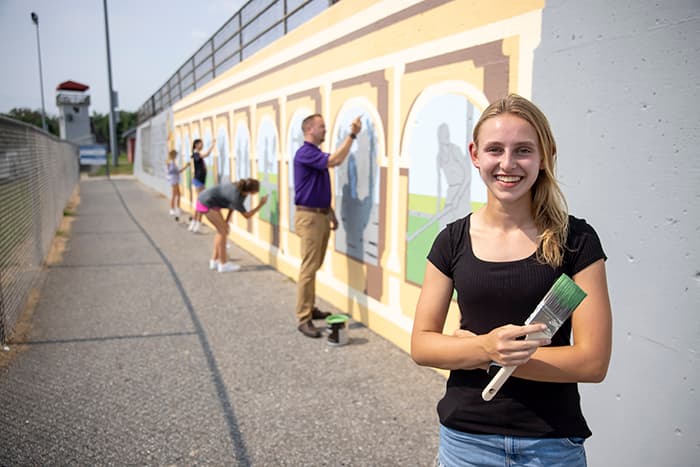 When Mr. English, my art teacher, announced that the end of the year project would be to design a mural, I nearly collapsed! School was still online, so sadly we couldn't all get together to design and paint a mural. Instead, students made a design proposal for an art mural or installation that would conceptually connect to a space of their choice. And it was absolutely perfect! I could play around with the idea for the Colosseum mural as a digital version before putting it on the wall. Through this project, I settled on having each arch display a different outdoor sport.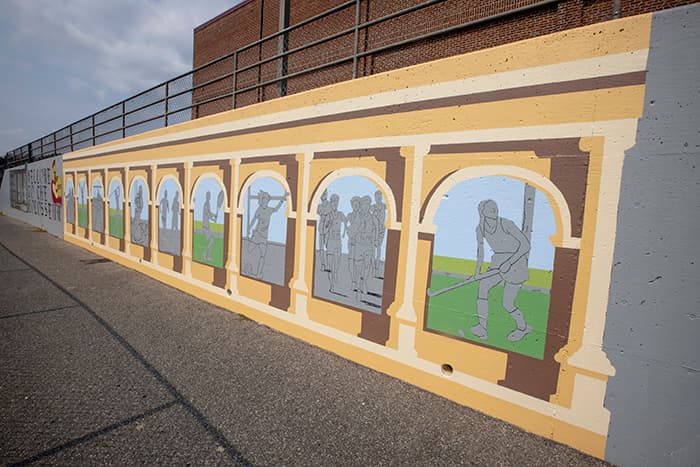 A few weeks later the project was finished and I showed off the final version to the class. Everyone loved it so much that Mr. English asked me if I wanted to turn it into a real mural for the school. Of course I wanted to! Mr. English and I decided to meet after online school one day to talk it over and to get approval. We asked Mr. Sageman, the athletic director, and Mr. Burton, the school's principal at the time, and both agreed immediately. Thus, Mr. English and I measured out the wall and made a plan of the colors that we would need to start painting.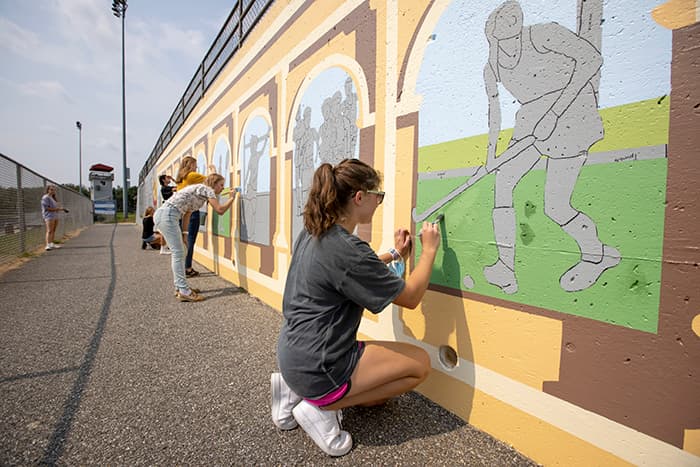 We started the drawing and painting process in August after our summer vacations. I was kindly lent a projector and Mr. Sageman allowed us to use the storage shed as a power source. I assembled a team of talented artists and together we went out at night to trace out the projected image of the digital version that I had made. And for the past few weeks, the artists and I have been working on straightening up lines, taping, and painting.
It has been amazing to see the progress we have been making and how great it looks from the track. I couldn't be more grateful for Mr. Sageman, Mr. Burton, Mrs. Hastings, and especially Mr. English for supporting me and helping me paint this mural. And we never would have made it this far without all the amazing artists: Sierra and Dayna Rohmann, Ruchi Bhalani, Brooke Birckhead, Alyssa Preece, and Eunice Kim. They have all stuck with me through doubtful days, late nights, and tiresome errors. Together we are making something to inspire the athletes, add more color to our school grounds, and to have some fun together doing something that we all love.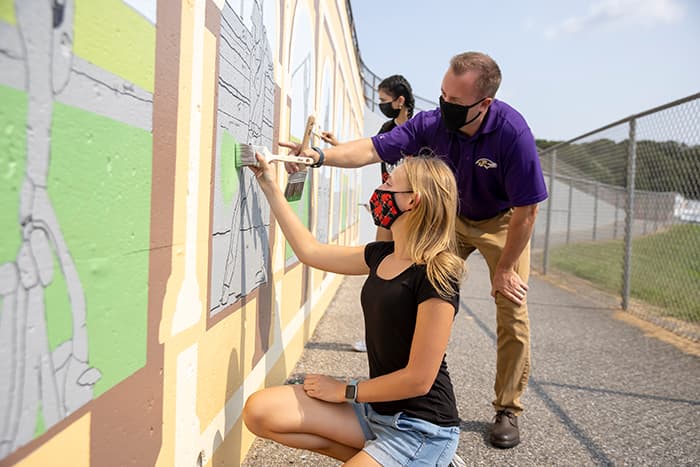 By Greg English, Art Teacher and Instructional Team Leader, Glenelg High School
Kara is the kind of student who would be thrilled to accept the challenge, I encouraged her to consider bringing her proposal to life. Now, about halfway through the process, the mural is already visually popping off of the wall. After each session of painting (often under a glowing sunset), it's so fun to stand back in awe and photograph the progress. The experience is turning out to be so much more than an art project…it's a real world application where Kara has learned to responsibly organize and lead a team of artists, plan something on a large scale, and think through materials and logistics. As her teacher for three years, it's incredibly satisfying and a proud moment to see Kara's maturity, leadership and passion throughout. Most of all, it's so fulfilling to experience the students making art, memories and a positive mark on our community…all in person…something we've all been missing and craving for a long time. The power of the arts is magically incredible.