Mt. Hebron HS Football Players Team Up with Waverly ES Students to Inspire Success
September 20th, 2021
The start of school is an exciting time for most students. This year, Waverly Elementary School (WAVES) students have something extra to look forward to: visits from the Mt. Hebron High School (MHHS) football team.
On September 8, 70 members of the JV and varsity football teams traveled to WAVES classrooms. Their goal: to ease the transition back to normalized instruction and begin to build relationships that can benefit students in the classroom and beyond.
"The past year was a challenging one for many of our students," explains WAVES principal Dr. Rachel Edoho-Eket. "We're hoping that by providing them the opportunity to meet and get to know older students – many of whom are excellent athletes, high academic achievers, and dedicated to helping the community – we are helping them to identify and connect with positive role models."
The football players' initial visit to WAVES was focused on getting WAVES students accustomed to having the players in the classroom.
"To many of our students, these players are like celebrities," Edoho-Eket says. "We want them to get comfortable having them around, so that they can interact with them naturally and build meaningful relationships."
As part of their visit, players conducted read-alouds, played math games, and participated in other group activities.
Going forward, the hope is to expand the scope of the student-player interactions. Select WAVES students will be paired with individual players and check in with them periodically. In some cases, the check-ins may be focused on academics, with players helping students with particular assignments or reinforcing specific academic skills. In other cases, the check-ins may be more general in nature, with students and players chatting about whatever is on their minds at the time.
"We want to provide students with another source of support and encouragement," says MHHS Head Football Coach Shawn Frederick, who has been working with Edoho-Eket to develop the WAVES-MHHS partnership. "We want them to know that we are there to cheer them on and help them succeed."
The players on Frederick's team stand ready to do just that.
"I'm really excited about this program," says MHHS football team captain Everett Armstead. "It's so important to have people in your life to look up to. I am proud to serve as a role model for these younger students."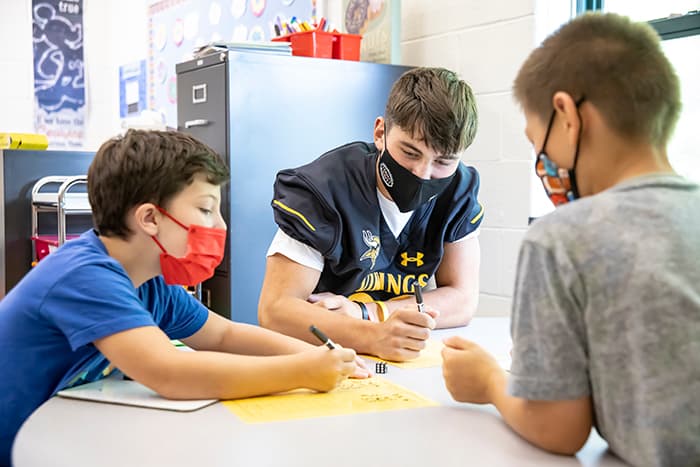 Sophomore Aiden Hauf, a defensive back (DB) and running back, agrees. "I'm really excited to work with the kids at WAVES. I want to help them do well in school. But even more than that, I want to help them to see the value of education. I want them to understand that even if their goal is to be a professional athlete, they will benefit from working hard and trying their best in school."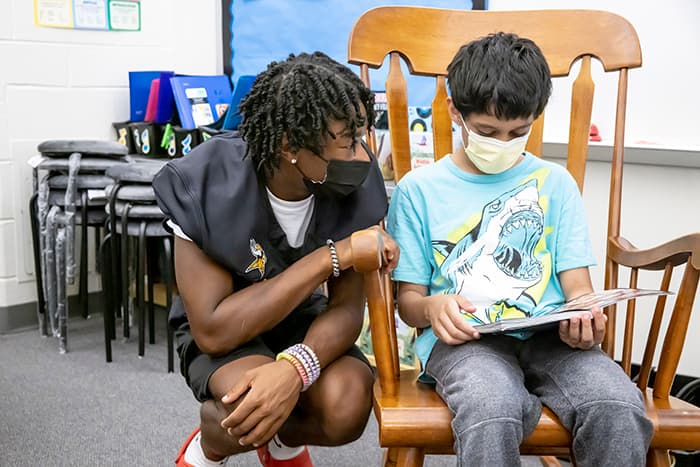 Elijah McKenzie, a junior defensive back and wide receiver, is also eager to begin working with WAVES students. "Knowing that those kids are going to look up to me is a really great feeling. It makes me want to do my best to set a good example for them."
For Frederick, the excitement comes not only from helping individual students, but also helping to build a football program committed to community service and what he calls "high character."
"Football is often in the spotlight, and how football players act influences how others act," he explains. "I want to work with my team to ensure that we are doing what we can to help our community, and representing MHHS – and football – in a positive light."
Edoho-Eket is confident the end result is going to be a win for her students and the MHHS players alike. "Coming out of the pandemic, it's more important than ever for students at all levels to feel connected and supported. Partnering with MHHS is a huge step in that direction–and one that is sure to benefit everyone involved."