Staff Focus: David Klotz, Advanced Physical Science Teacher, Howard High School
October 21st, 2019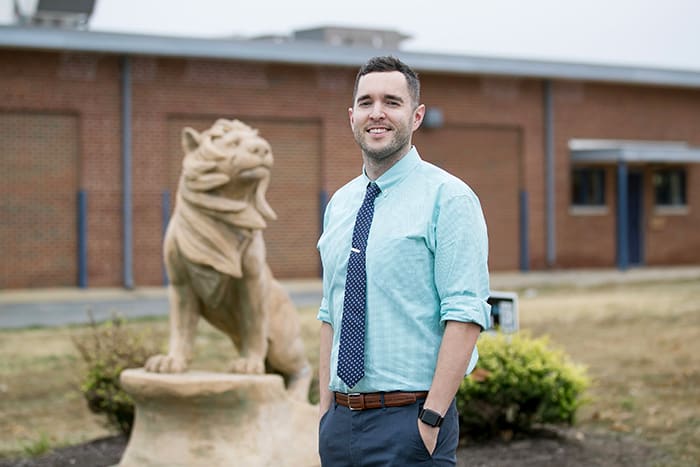 With his mom teaching Biology at Atholton High School and his dad a karate school owner, David Klotz was able to see what a teacher can do firsthand from an early age. Realizing his passion for teaching and leading others, he took a deliberate pathway to becoming an educator and happily returned to HCPSS, where he attended school, six years ago.
Klotz, who has been teaching at Howard his entire career, admits that the first couple of years teaching were hard. He explained that he moved forward when "[Howard] Principal [Nick] Novak saw something in me to be a leader. I realized I could be a classroom teacher and improve systems and schools."
Novak, in turn, said: "Mr. Klotz has passion. He has a passion for teaching, a passion for Howard High, and a passion for making our community better. I wanted to make sure he was in a position to use that passion to influence others and make our school a better place." Klotz then began his professional leadership journey, most notably helping launch the Advanced Physical Science course countywide and revamping Howard's School Improvement efforts.
Klotz's work with the new Advanced Physical Science class includes co-writing its curriculum, leading professional learning for his HCPSS peers and teaching the course exclusively this year. The new class, prompted by the new Next Generation Science Standards (NGSS), is hands on, encouraging students to problem solve and work together — all important college and career readiness skills. Students see physics and chemistry concepts come to life through real world projects, such as how to make a local traffic intersection safer and how to create a more effective helmet.
"David was unfazed when we were faced with writing a course that was different than most any course any of us ever experienced," said Mary Weller, HCPSS coordinator of secondary science. "He jumped into the creative process and led in the identification of interesting scientific problems to stimulate and then drive student learning for this scientifically rigorous course. His students' attitudes toward science generally and the physical sciences specifically were enhanced by his enthusiasm, knowledge and commitment."
Klotz believes Advanced Physical Science is opening access to more students taking physics in high school, while the projects emphasize how science can be used to improve lives. In year two of the class, "we've seen kids enter who say they 'hate' math or science but grow in their math and science abilities in terms of confidence. We're fortunate because we can show kids how concepts go beyond the classroom."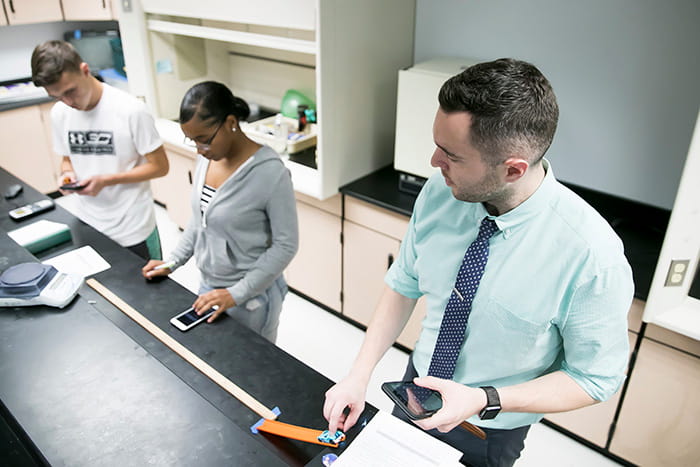 On the School Improvement side, Klotz has helped Howard redefine its mission and vision, while getting all staff and students involved in the school's change. Allison Ose, Howard chemistry teacher and School Improvement Team co-chair, said, "David has a strong desire to improve the school community, and the students and staff directly benefit from the work." Examples of recent successes include increased AP enrollment for African-American students, creation of the One Howard student voice group, mindfulness workshops for students and staff, and a restorative justice book study group for staff.
In summary, Klotz said, "I'm dedicated and I'll continue to work hard to be the go-to person to help people. I hope my students learn, but more importantly, I hope they can trust learning and develop as learners."
Klotz lives in Parkville with his family and is currently finishing up his Educational Leadership graduate program at Towson University.