Embassy of Italy Partnership Provides Gateway for Students
June 17th, 2019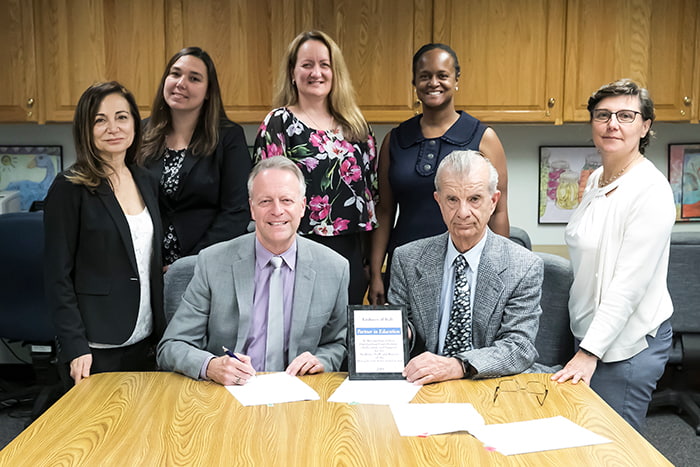 The Howard County Public School System (HCPSS) has partnered with the Embassy of Italy in Washington, D.C., to support Italian instruction and culture programs at HCPSS. The partnership was formalized with an official partnership signing on Monday, June 10 at the HCPSS Department of Education in Ellicott City, Maryland.
Under the terms of the agreement, the Embassy will collaborate with HCPSS World Languages staff to provide opportunities for high school students to participate in Italian language instruction and increase cultural understanding. Students and teachers will be invited to attend Embassy events and programs, and to conduct field trips to the Embassy. HCPSS staff will invite Embassy representatives to share professional learning experiences with teachers and students, including instructional resources about Italy's history and culture.
HCPSS Superintendent Michael J. Martirano, Executive Director Curriculum, Instruction, and Assessment Ebony Langford-Brown, Director of Curricular Programs Jennifer Novak and World Languages Coordinator Kimberly Banks joined the Embassy of Italy Director of Education Office Maria Fusco and Ente Gestore Casa Italiana Language School President Joseph Lupo and Assistant Director Paola Corneo to sign the formal memorandum of agreement at the June 10 event.
The Embassy of Italy in Washington DC is the largest Italian bilateral embassy worldwide. The Chief of Mission is Ambassador Armando Varricchio. The Embassy coordinates a network of 9 Consulates, 5 Cultural Institutes, 6 Italian Trade Agency offices, and 3 Italian Tourist Board offices.
The Howard County Public School System's Partnerships Office has united schools with more than 1,000 businesses and community organizations to enhance the educational experience of Howard County students. Partnerships benefit schools, businesses and the entire community by leveraging the resources of all participants. Partners may commit human or financial resources or other support.