Food and Nutrition Services Director Honored for Helping to Erase Food Insecurity
October 23rd, 2018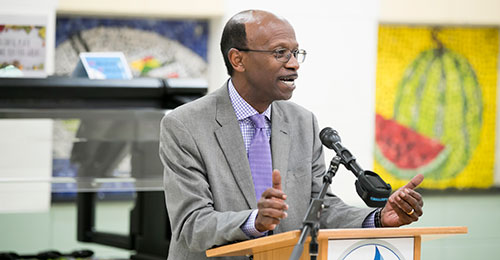 HCPSS' Brian Ralph was recently named the 2018 Food & Nutrition Services Director of the Year by Maryland Hunger Solutions. He was recognized for his work on erasing food insecurity in the Howard County public schools.
HCPSS Food and Nutrition Services has strived to make healthy foods accessible to more kids in school. Recent efforts have included the HCPSS summer food program, the expansion of the Let's Rethink Lunch healthy meals program to all elementary schools and implementation of grab-and-go breakfasts in schools.
The Food Research & Action Center established Maryland Hunger Solutions as a project to fight hunger and improve the nutrition, health, and well-being of children and families in Maryland. Ralph was honored at the Maryland Food Access and Nutrition Network 8th Annual Fighting Hunger in MD Conference on October 9.
« EdcampDSE: Explore Special Education in HCPSS – November 12, 2018
Glenelg's Wande Owens Breaks 28-Year-Old Howard County Career Rushing Record »