Michael Martirano, Interim Superintendent
May 24th, 2017
Dr. Michael Martirano returned to the Howard County Public School System (HCPSS) in May as acting superintendent, and was recently named interim superintendent. A former HCPSS parent and director of school administration, Martirano looks forward to "getting back to the root of what I do–working with kids–at a place I love." He views himself as "a teacher first and foremost" and believes children must be at the center of every decision made for the school system. "My main purpose is to serve the children in Howard County. I believe all children can and will learn," he said.
Martirano embraces Martin Luther King, Jr.'s legacy, especially his calling for the "fierce urgency of now." Martirano envisions taking HCPSS to a transformational place: "I'm coming in with an extreme level of enthusiasm to lead with a vision of equity. If it can be done, it can be done here in Howard County." He intends to advance an educational equity model grounded in the 10-point plan, "Leading for Equity," by The Aspen Education & Society Program and The Council of Chief State School Officers. His work on equity is inspired in part through his personal experiences as the grandson of an immigrant and the grandfather to an interracial child.
"Dr. Martirano's performance has far surpassed the Board's expectations in his short time with Howard County. The community has overwhelmingly expressed appreciation for his positivity and student-centric approach. We embrace his efforts in ensuring that every child succeeds," said Board of Education Chairman Cynthia Vaillancourt.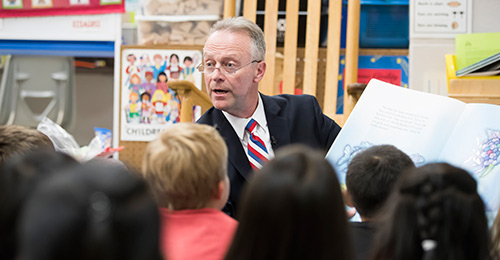 Some of Martirano's proudest work emphasizes his focus on listening to others and ensuring every child succeeds. He is the only state superintendent in West Virginia to visit all 55 counties in one year, believing that "to teach a child well, you must know a child well." At St. Mary's County where he served as superintendent for nine years, the 4-year graduation rate increased from the low 80s to an all-time high of 93.5 percent.
A self-proclaimed "relationship-driven extrovert," Martirano welcomes discussing matters of the heart to make connections with others and encourage resiliency. He comes from a place of empathy, after going through moments of personal hardship throughout his life. "If I'm experiencing things, I know our kids are going through personal struggles as well," he said.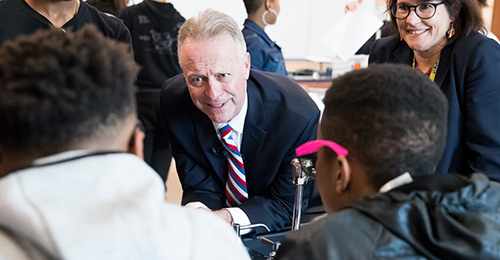 Martirano credits his teachers for where he is today. "I've been doing the same thing since I was 7th grade class president: bringing people together around a common mission," he said. His more than 30-year career as an educator is grounded in roles including a science teacher, principal and visiting professor at Johns Hopkins University.
Martirano was recognized as the 2009 Superintendent of the Year in Maryland, the 2010 Innovator of the Year by the Maryland Daily Record, and with the 2011 Jack Epstein Award for his contribution to multicultural education in Maryland. In 2017, he received the Distinguished West Virginian Award, the highest award given by the Governor of West Virginia. He holds a doctorate in school management and instructional leadership from the Nova Southeastern University, and two master's degrees and a bachelor's from the University of Maryland.