Staff Focus: Darius Martin, Mail Room Assistant
December 5th, 2022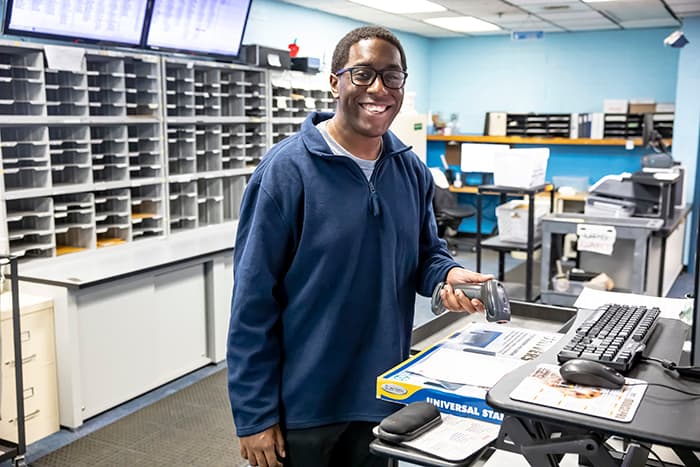 If you work in or have visited the Howard County Public School System's Department of Education building/Central Office (CO), you probably know or have seen Darius Martin. Martin works in the mailroom, where he meters and records mail and packages, sorts mail for distribution via HCPSS' pony express system, stuffs and labels materials, operates assorted office equipment (including a web-based package tracking system), and performs other administrative duties. Martin also hand-delivers and collects mail from Central Office staff twice a day.
Martin, who graduated from Wilde Lake High School in 2014, began working at HCPSS in 2015 as part of his enrollment in HCPSS' Community Connection program, which aims to ease the transition to independent adult life for post-high school students with mild to moderate disabilities. During that time, his supervisor, Dawn Trakney recognized him as a great asset to the mailroom team.
As she recalls, "After his [program] completion in the mailroom, I just couldn't let him go. I knew he had so much more potential here and I would be able to teach him more."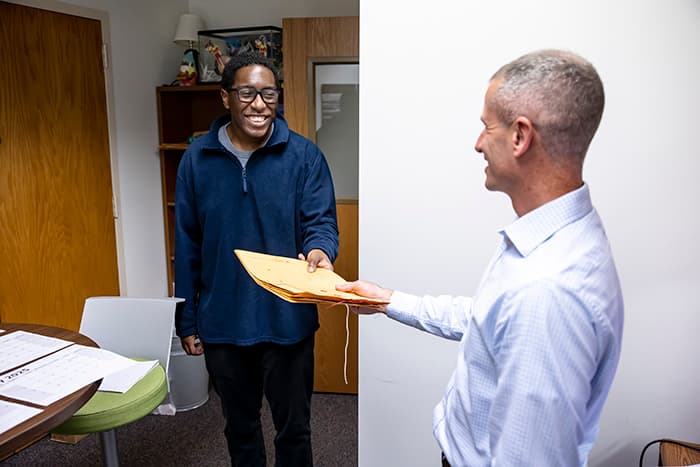 Martin subsequently became a full-time HCPSS employee and has become a fixture on the CO scene, working hard to perform his assigned duties and connect with his fellow HCPSS employees over some of his favorite subjects, including the Baltimore Ravens, the TV show DC Comics, and his flag football team, on which he plays running back and wide receiver.
Building those personal connections is what Martin enjoys most about his job at HCPSS.
"I just love talking to people," he says.
HCPSS' Director of Multimedia Communications and School Support Emily Bahhar is one of the many people with whom Darius loves to chat.
As she notes, "Darius is a pleasure to work with. He brightens any room with his smile and is an absolute joy to be around. I can always count on Darius for good conversation around football, Star Wars and Marvel movies!"
"Darius is a very pleasant, thoughtful, and caring person," notes Executive Assistant Carrie Slaysman. "I look forward to hearing about his football season each year. His amazing drawings on pictures and cards are truly treasures. The Central Office is very fortunate to have Darius working with us."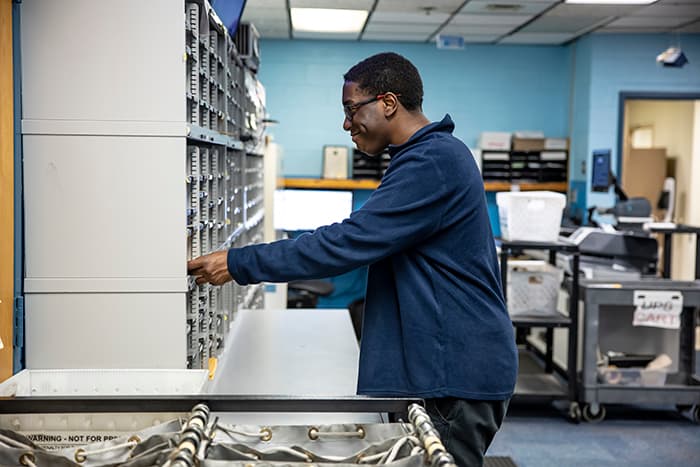 Martin also values being able to work as a member of a team in the mailroom, as well as the opportunities he has to continually learn new skills on the job.
Martin's' enthusiasm for, and dedication to, his work shines through, says Trakney.
"Daruis [is] a delight to work with. I love his work ethic and his personality. He is kind to everyone and enjoys working here. He is always willing to learn new things and work well with my other special needs students that I get throughout the year. Darius is truly a team player, and I am proud to be his supervisor and friend."
"Darius always greets you with a smile as he drops off packages and other mail," adds Alli Whitney, Community and Workforce Engagement Specialist. "I also love the handmade holiday cards he makes. His positive energy is contagious and he is a great asset to the CO staff community."