Newly Elected Board Members Sworn in; Board Elects New Chair and Vice Chair
December 5th, 2022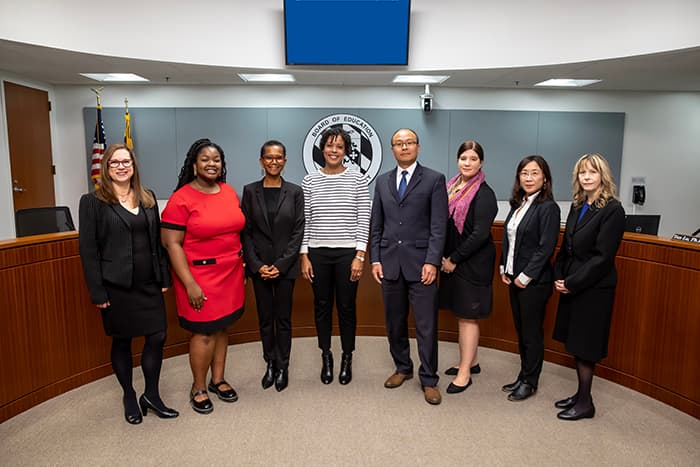 The Oath of Office was administered to the two newly elected Howard County Board of Education members at the Board's regularly scheduled meeting on Monday, December 5, 2022, by Wayne A. Robey, Clerk of Court.
Dr. Linfeng Chen and Jacky McCoy join the Board following their victories in the November 8, 2022, general election. They were elected to fill the two at-large vacancies on the Board following the decision by Vicky Cutroneo and Chao Wu to not seek reelection.
Chen is a father of three Howard County Public School System (HCPSS) students and has served on the Board of Education Operating Budget Review Committee (OBRC) and HCPSS Science Advisory Committee, Social Studies Advisory Committee and Calendar Committee.
McCoy is an educator with over 35 years of experience and was past president and first vice president of the Long Reach High School PTSA, a past member of the HCPSS Community Advisory Council, Howard County Racial Equity Task Force, HCPSS Calendar Committee and Middle School Schedule Committee and served as a facilitator for Talk With Me Howard County as well as Courageous Conversations in Howard County.
Additionally, the new Board held elections for Board Chair and Board Vice Chair. The Board elected Antonia Watts as the Board Chair and Dr. Yun Lu as the Board Vice Chair. Those positions were filled immediately.