Staff Focus: Josh Wasilewski, Principal, New High School #13
November 28th, 2022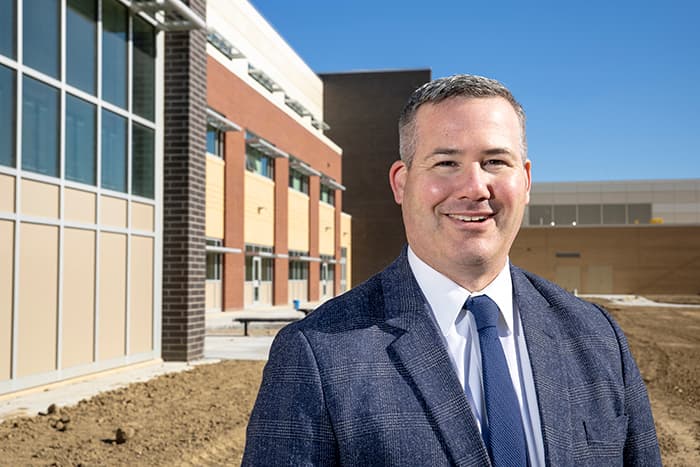 When the doors open to New High School #13 for students in August 2023, one of the first smiling faces students will see is that of Principal Josh Wasilewski, who by then will have been waiting an entire year to welcome his students into their new school.
"I can't wait to welcome students through the door on the first day of school. For these students and families, I want this to be a positive experience and I am excited to work with them to establish our school's culture, community, traditions, and, most importantly, the school spirit and pride that will infuse everything we do," Wasilewski said.
Wasilewski, who has been with HCPSS since 2001, brings a wealth of experience to his role as principal of High School #13 (name to be determined), having served as a teacher at Mayfield Woods Middle School, Assistant Principal at Patuxent Valley and Wilde Lake middle schools, and Principal at Murray Hill Middle School and Long Reach High School. Much of Wasilewski's career has been spent in the eastern portion of the county in the Elkridge, Savage and Laurel areas—it's a community close to his heart and he's excited to be part of that community once again.
As a principal, Wasilewski is committed to providing all students with the opportunities, resources and skills needed to excel in a dynamic world. Critical to this vision is creating a culture centered on equity, cultural responsiveness, high-quality instruction and engagement of all members of his school community.
"I have tremendous faith in Mr. Wasilewski and I am thrilled for him to serve as the Principal of High School #13," said HCPSS Superintendent Dr. Michael J. Martirano. "He was the HCPSS 2019 Principal of the Year because he is a great collaborator and community builder and I look forward to him welcoming staff, students and families for the 2023-2024 school year. This new high school community is fortunate to have the type of inclusive and energetic leadership that Mr. Wasilewski provides."
Aside from his professional experience, Wasilewski draws on personal experience related to opening a new school. His daughter was one of the first students to attend her high school in Anne Arundel County when it opened in 2020, so he understands firsthand the apprehension—and the excitement—students might feel in coming to High School #13.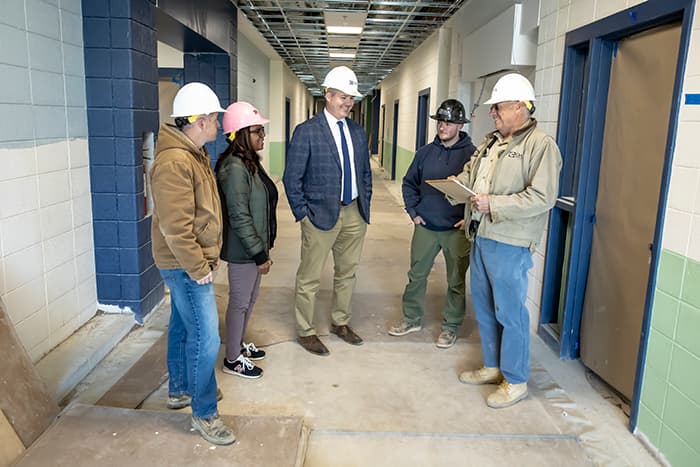 While waiting to learn which families will be attending High School #13, Wasilewski has been working to ensure the school will meet its students' needs, including plenty of open spaces for collaboration. From meeting regularly with the architect and the builder to make sure the instructional areas were designed correctly, to picking out fabric and ordering furniture for the school, Wasilewski has been busy and often shares photos of the school's progress on Twitter and Instagram.
In addition to the physical space at the school, Wasilewski is most excited about the chance to build a new community alongside these students and develop a sense of school pride. The students who attend High School #13 will have an opportunity to leave their mark by establishing traditions and helping to choose the mascot. Parents will play a role in establishing traditions, too, by setting up the school's Parent Teacher Student Association and booster clubs.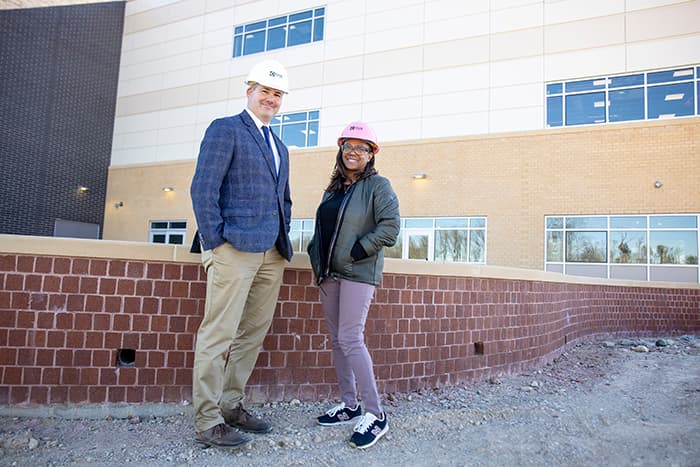 Wasilewski has messages ready to send to new students and families and has meetings planned for students and parents/guardians to get to know him. Meeting his students and hearing their input, as well as that of their families, will be Wasilewski's focus over the next several months.
"I'm excited, not just for next year, but for these next couple of months where I can finally meet with students and have them be a part of creating the community at High School #13. I can't wait to experience all the firsts alongside these incoming classes and most importantly, I can't wait to see the first graduates from this school walk across the stage when the time comes," Wasilewski said. "I want students and families to be just as excited about all the possibilities that are waiting for them."