HCPSS Names 2019 Principal and Teachers of the Year
March 7th, 2019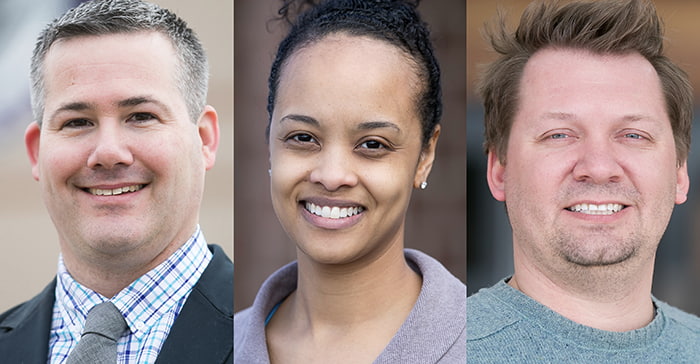 The Howard County Public School System (HCPSS) has announced its 2019 winners for Principal and Teachers of the Year. Long Reach High School Principal Josh Wasilewski has been named 2019 Principal of the Year. Two honorees, Sylvia Hennessie of Guilford Elementary School, and Greg Murach of Mt. Hebron High School, have been named 2019 Teachers of the Year. The awards were announced on Wednesday, March 7 during surprise visits by Superintendent Michael J. Martirano, joined by students and staff at each winner's school.
"I am honored to recognize these educators for their impressive achievements, and proud to have them represent our school system," said Martirano. "Each exemplifies the goals and outcomes of our Strategic Call to Action by creating equitable and engaging learning opportunities; building strong relationships with students, colleagues and the community; and ensuring the social-emotional well-being of all students."
Wasilewski has been the principal at Long Reach High School School since 2016, and has served HCPSS for 18 years as a teacher and school administrator. His selection recognized his exemplary skills in all facets of effective leadership. Nominators noted his commitment to building strong and positive relationships with students, staff and parents; attention to mentoring and fostering staff development; and energy and creativity in encouraging academic success and a positive school environment.
In describing Wasilewski, Assistant Principal Richard Smart stated that "There is no doubt that the growth of school pride, team work and energy at Long Reach has been due to his leadership." School counselor Brett Moore added, "He is committed to making the Long Reach High School community a safe, welcoming and nurturing environment for our students to learn."
Hennessie has been teaching at Guilford Elementary School since 2015, and currently serves as Kindergarten team leader. She is being honored for her ability to build connections with students and create a nurturing, academically challenging atmosphere for learning.
In describing Hennessie, colleagues noted her "calm and caring demeanor that radiates sincerity," and "natural and instinctive rapport" with her students. Teachers and parents commended her strong subject knowledge, skill in addressing students' individual needs, and commitment to supporting the growth of other teachers.
"She is exactly what a Teacher of the Year winner is: dedicated, focused, a leader, and one who inspires others to learn!" said Guilford Principal Jonathan Davis.
Murach, a Howard County teacher since 2005, teaches mathematics at Mt. Hebron High School. His nomination included many statements of appreciation and admiration from colleagues, parents, students and community members.
Mt. Hebron Principal Joelle Miller described Murach as "brilliant, creative, exudes warmth, compassion and understanding," and earning "high respect from his peers."
Chief Academic Officer Bill Barnes noted that, through Murach's skill and commitment, "Students experience success in mathematics, sometimes for the first time in their lives, as a result of his efforts."