Staff Focus: Jeff Fink, Principal, Oakland Mills High School
November 1st, 2022
Oakland Mills High School (OMHS) Principal Dr. Jeff Fink is Howard County's 2022 Principal of the Year, but his path to a career in education wasn't straightforward.
As a student, Fink struggled. In elementary and middle school, he tried hard to coast through unnoticed, but that was a challenge the day his math teacher shamed him in front of his classmates for failing his math test.
At a point in middle school when he was failing all his classes, he and his father were called into a meeting where he was confronted by his teachers, an assistant principal and a guidance counselor where they essentially told him not to expect too much from himself; that he wouldn't amount to much.
It was during his freshman year of high school that things started to turn around. Despite Fink's attempts to remain unseen, he recalls, "My science teacher was the first person who ever pushed me. At the time, I hated him because he wouldn't just let me be. He kept pushing me and it was pulling me up out of the place I had been in for so many years and motivating me to do better bit by bit."
Fink earned an A in the class.
Fink ended up having that same teacher for two more years in high school and the teacher continued to push him to succeed. Other teachers began to do the same and by the time he graduated, Fink had As and Bs.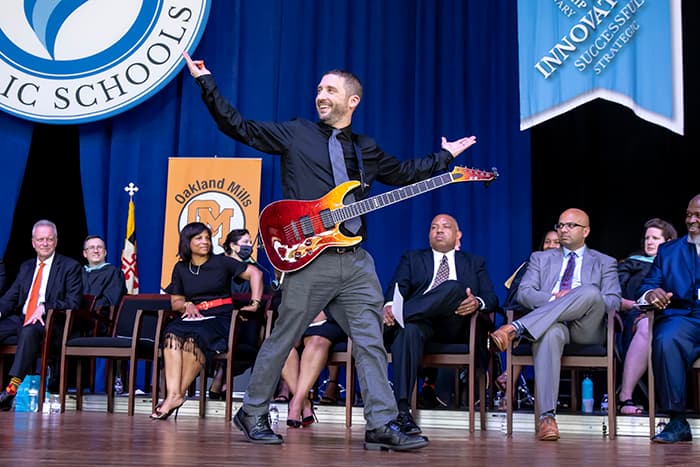 Even though becoming a teacher was in the back of his mind, he decided he would focus on scientific research in college. After a short-lived career in research, he came to the realization it wasn't for him and ended up going back to get a second degree in education, which led him to where he is today.
Fink shares this story from his past each year with OMHS freshmen. Only he doesn't tell them that the person in the story is him until the end. While he feels strongly that everyone needs that "one adult" in their lives who can make a difference like his science teacher did for him, he stresses to his students they should and can believe in themselves.
"No matter your past struggles, no matter whether you have been told—or convinced—that you can't, in fact, you can! Ask yourself 'why not me?' [when considering if you can do something]," Fink advises his students.
Fink has been principal of OMHS since 2018 and considers the school and its community his extended family. He has worked to bring the school community together and make it stronger, a feeling that has extended to the larger Oakland Mills community and helped carry it through the pandemic.
Fink will never understand what his science teacher saw in him. He knows he wouldn't be here without that teacher and now his door is always open to any student who needs him to be that adult for them. He makes it clear that "I'm always here and these doors are always open. No matter the situation, I always listen."