Career Academy Equips Students with Professional Skills and Helps Solidify Their Post-Secondary Plans
May 10th, 2022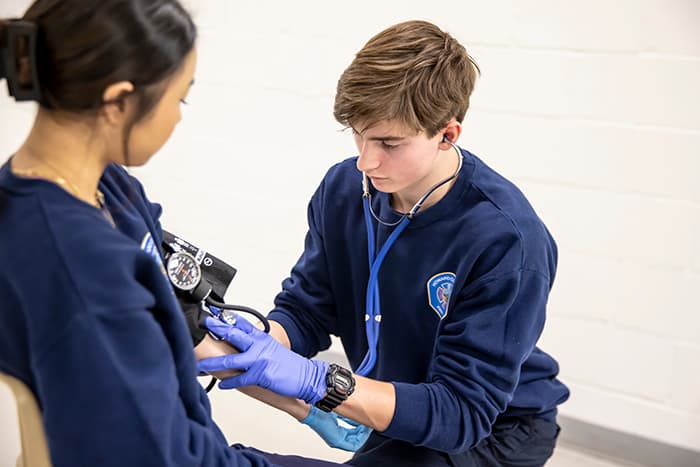 Ben Gallagher credits his grandfather, a physician at St. Jude Children's Research Hospital, for his interest in medicine. Then, when Ben attended ygenan information session for HCPSS' Career Academies during his sophomore year at Hammond High School and learned he could study to be an Emergency Medical Technician (EMT)—and try his own hand at medicine —he was intrigued.
"It seemed like a perfect opportunity to explore being a first responder and discover whether it was a good fit for me," he explains.
Like all students in the Academy of Health Professions (AOHP), of which the EMT program is a part, Gallagher began by taking Foundations of Healthcare in his junior year. The course provides students with an overview of body systems, infectious diseases, blood and airborne pathogens, and basic first aid.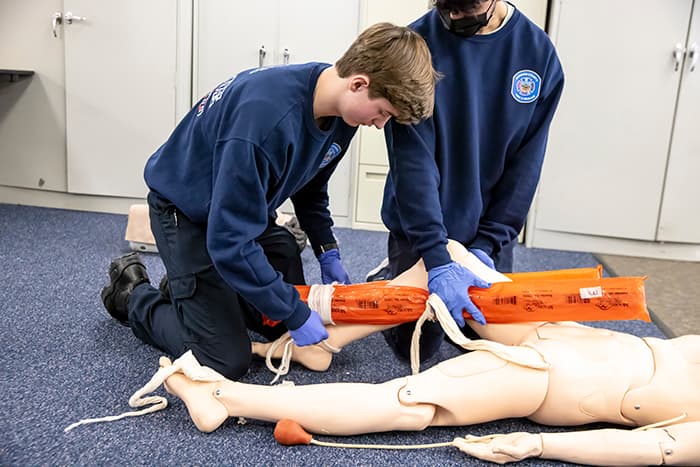 Though it consists mainly of "book work," Gallagher says the course was valuable in helping students determine whether they wanted to continue onto one of the Academy's specialized pathways—EMT, Certified Nursing Assistant (CNA), Physical Rehabilitation, and Clinical Research in Allied Health—in their senior year.
"As some students learn more about what it means to work in the health field, they realize it's not for them," Gallagher explains. "For me, the more I learned, the more I knew that I wanted to be an EMT."
Gallagher's interest in becoming an EMT has only intensified this year when, as part of his EMT program, he's had the opportunity to ride with and work alongside trained EMT and paramedics in Howard County.
When he first began "ride time" in January, he was primarily an observer, watching trained staff as they responded to different scenarios. Not long thereafter, he assumed a much more active role, collecting information on patient's vital signs, "bagging" patients who are having trouble breathing, and providing other types of basic life support.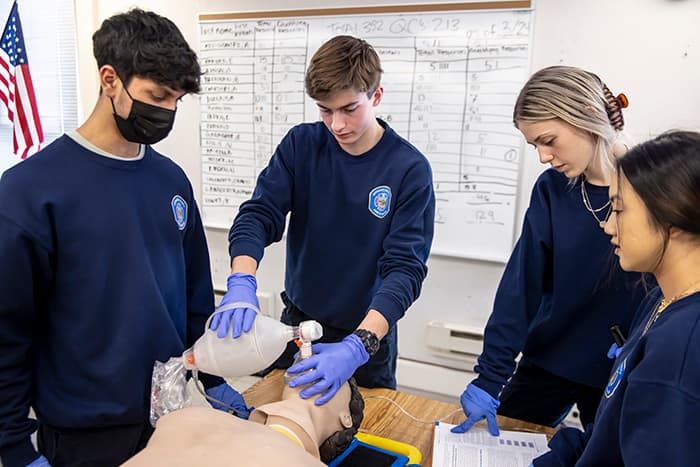 Gallagher now rides in Howard County ambulances two to three times a week and is hoping to attend the University of Maryland, Baltimore County's bachelor's program in emergency health science with a paramedic concentration. He also has applied to work as a volunteer at Fire Station 6 in Savage.
"Having had the chance to actually be in the field and see what it's really like to respond to emergency calls has helped me realize that I absolutely want to work in emergency health services," he says.
Gallagher also says that the experience he's gained through the AOHP has helped him approach college with greater confidence.
"I know what I'm getting into, and that I'm coming in with a strong base of knowledge and experience."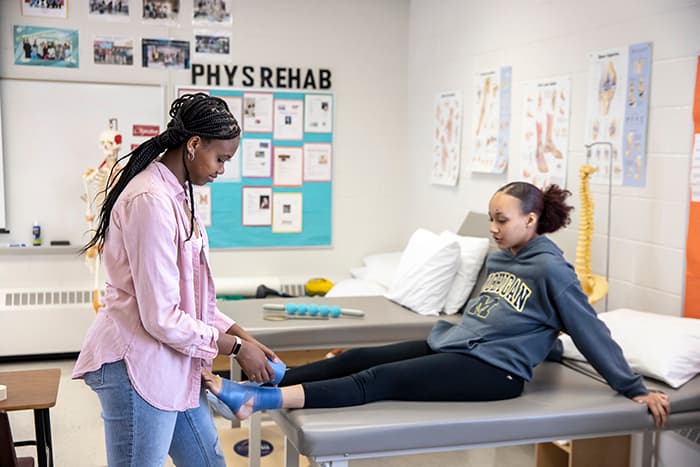 Wilde Lake High School (WLHS) senior Mia Swaby-Rowe has had a similarly valuable experience through the AOHP's Physical Rehabilitation pathway.
Swaby-Rowe had an interest in sports medicine, but wasn't certain if it would be the best fit for her professionally. Having heard her basketball team captain speak positively about her experience in the AOHP—and about the physical rehab path specifically—Swaby-Rowe decided to give it a try.
"[Physical rehab] seemed like a perfect option, because it would set me up to work with athletes or with the general population," she explains.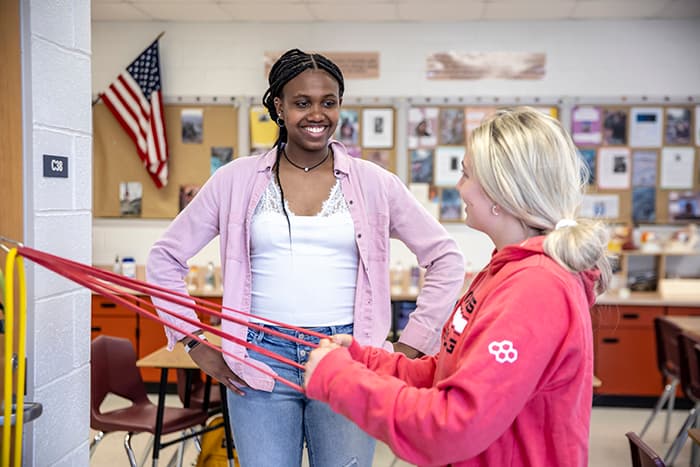 Like Gallagher, Swaby-Rowe took Foundations of Healthcare in her junior year, gathering basic knowledge about how the body functions, pharmacology, patient care and communication, confidentiality, and career options in the medical field.
As a senior, Swaby-Rowe notes that her classes are a mix of lectures and labs.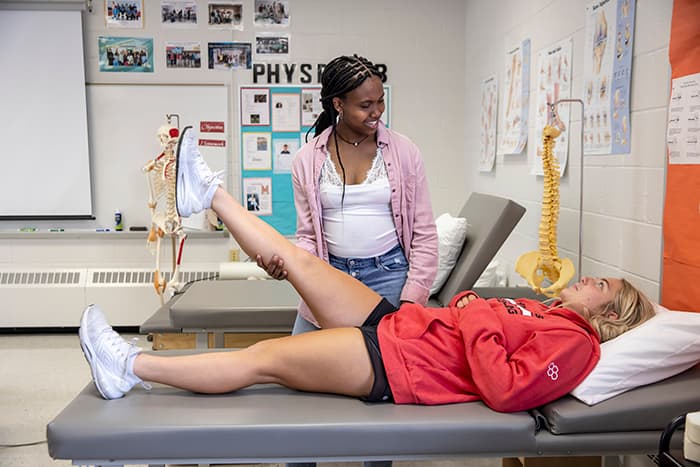 "We regularly partner up with our classmates and do practicals, where we learn how to perform tests to assess injuries and how to treat them," she explains, adding that "It's like being a detective. We're learning how to put different pieces of information together to figure out what is wrong and how to fix it."
In addition to her classwork, Swaby-Rowe has had to complete an internship as part of the physical rehabilitation pathway. Initially, she interned at Life Fitness Physical Therapy, where she observed the physical therapists and guided patients through exercises. Later, she interned with WLHS' athletic trainer, observing and helping with various forms of physical therapy.
As it has for Gallagher, being in the AOHP solidified Swaby-Rowe's plans for the future.
"I didn't want to go to college uncertain about what I wanted to do. Now that I've seen and experienced what it's like to be a physical therapist and an athletic trainer, I know that I want to keep going," she says, adding that she will be studying kinesiology at the University of Maryland this fall.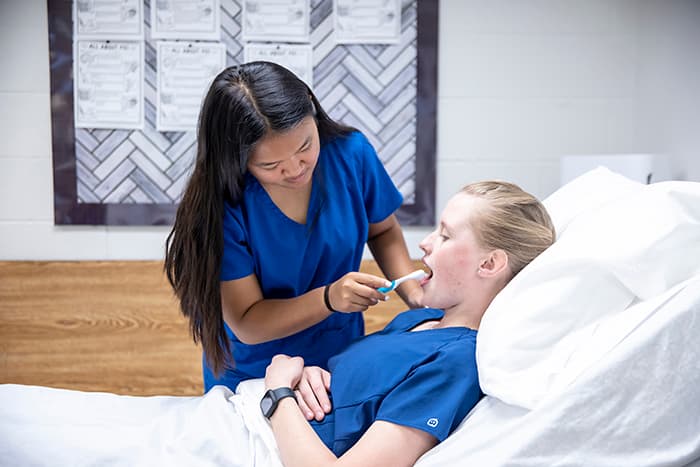 Kelly Song is a senior at Long Reach High School who is enrolled in the Academy of Health Professions' CNA pathway. Like Gallagher and Swaby-Rowe, she had an interest in healthcare and saw the Academy as a great place to explore that interest further. At the same time, she saw the CNA pathway specifically as a valuable step toward her longer-term goal of becoming a physician's assistant.
"I knew that doing CNA would give me hands-on skills that I could use immediately [as well as] down the line," Song says.
That it has. Song spent the first half of this school year undergoing in-class training. She practiced these skills on her peers and on mannequins.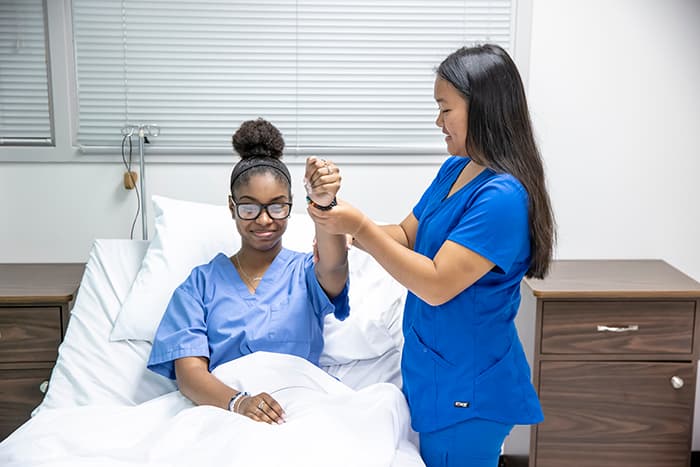 Song later spent time at Winter Growth, an assisted living facility, where she had the opportunity to observe CNAs and other nursing staff in action. She also participated in several weeks of clinical training, culminating in a skills test. After passing that test, Song began working one-on-one with patients at Harmony Hall, another assisted living facility. There she was able to put her skills to use.
"I was able to do bed baths, full showers, and supervised transfers of patients from one location to another," she recalls.
Having completed her clinical hours, Song is now focused on preparing for her CNA exam in May.
"I'm excited to get that test behind me," she says. "Once it's done, I'll be eligible to work in any assisted living or rehabilitation facility as a CNA."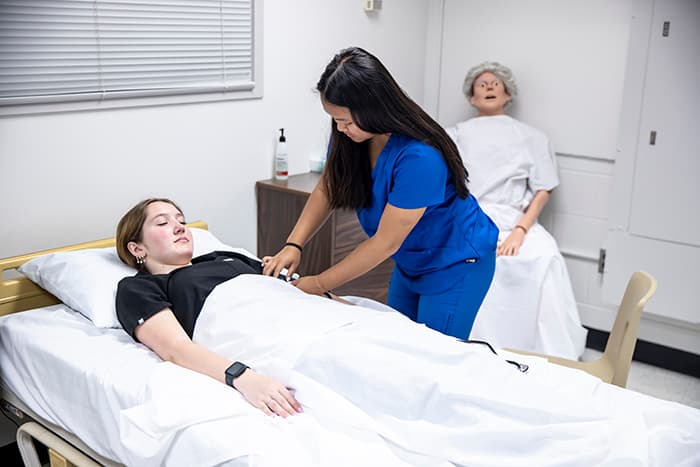 More importantly, Song says, she'll feel that much more prepared for the four-year nursing program at the University of Delaware she has been accepted into for the fall.
"Many students enroll in college programs without really knowing what they're getting themselves into. Because of my experience in the CNA program, I have a clear picture of what nursing is about and am confident it's what I want to do next."
Additional information on the Academy of Health Professions is available online.