Two Wilde Lake High Students Vie for Student Member of the Board; Election to be Held May 4, 2022
March 29th, 2022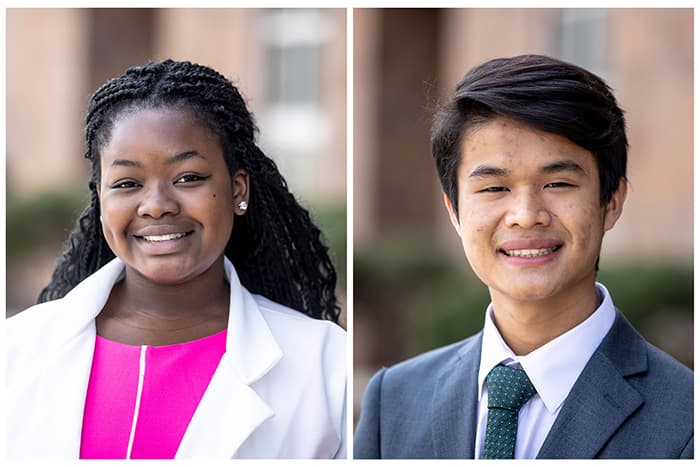 The Howard County Association of Student Councils (HCASC) will host the virtual general election for the 2022-23 Student Member of the Board of Education (SMOB) Wednesday, May 4. Abisola Ayoola and Oliver Song—both students at Wilde Lake High School—are candidates for the position.
Ayoola and Song were chosen by their peers at the HCASC Convention, held March 22. One hundred and thirty-eight student delegates (six from each high school and three from each middle school), nominated by their principals and peers to represent each middle and high school across the Howard County Public School System, attended the convention. Nine students ran for SMOB candidate, from which Ayoola and Song were chosen as finalists.
All 6th-11th grade HCPSS students are eligible to vote in the SMOB election, which will be conducted in Canvas. Schools will help facilitate the election process by setting aside class time for voting throughout the day on May 4.
Per Board of Education Policy 2010 Student Representation, candidates may use a combination of print materials, a campaign website, and a Canvas page to connect with students during the 20 school-day campaign period. Additional communication platforms are allowed and the policy states that "Candidates must comply with all HCPSS policies and the Student Member of the Board Rules and Expectations at all times and on all platforms whether using official ones recognized as part of the campaign process or any other platforms and strategies."
The new SMOB will be sworn in this summer. They will be eligible to vote on all issues except those pertaining to budget, personnel, or other restricted matters.
HCASC student leaders facilitate and manage both the campaign and election process with guidance from the HCASC advisor and HCPSS staff. The SMOB election process aims to empower students to learn and put into practice the habits of mind it takes to serve as engaged and informed citizens. HCASC provides an enriching experience for candidates where they can find meaningful ways to lead and serve either as the next SMOB or in other HCPSS student leadership positions throughout the school system.
More information about the SMOB campaign and election process can be found on the HCASC website and through weekly Canvas messages sent through each school community.