Staff Focus: Terry Eberhardt, Music Coordinator
March 17th, 2022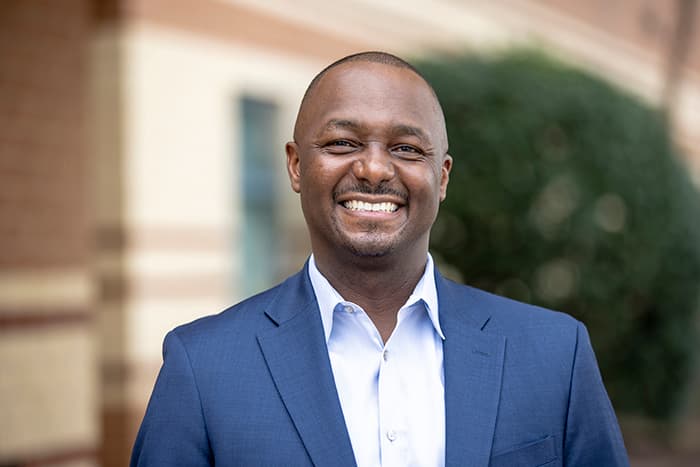 Terry Eberhardt has always loved music. As a child, he put on concerts for his family, and sang in his elementary and middle school choruses while also experimenting with different instruments, including the organ, piano, clarinet and saxophone. He earned a scholarship to play percussion at a private high school. He found joy in all of it, but wasn't convinced that he could make a career out of music.
With encouragement from his high school choir director, Eberhardt pursued a dual degree in vocal performance and music education at the Peabody Institute, with the goal of becoming a professional singer. At the time, he says, he thought of his music education degree as more of a "back-up plan." But when going pro didn't pan out, he decided to give teaching a try.
Eberhardt's first teaching job was as a long-term substitute in Montgomery County–and he loved it.
"It was everything I wanted. I was essentially performing in front of a different audience every 30 minutes, and I got to learn new instruments and songs every day," he recalls.
Following that, Eberhardt began a full-time teaching job at a Montgomery County middle school. At the same time, he started receiving calls from some of the places at which he had previously auditioned.
"I had just assumed that when I didn't hear anything initially from those places, that was the end of it. I didn't realize that they might be interested in hiring me to perform for something in the future," he explains.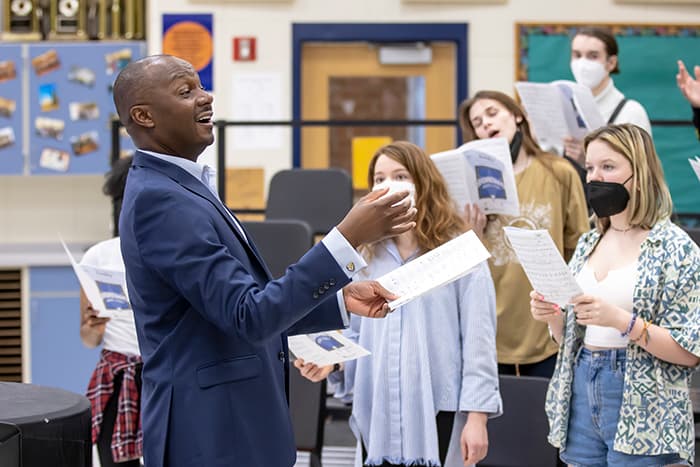 From there, he decided to go back to school and get a master's degree in opera performance. Having enjoyed teaching so much, though, he wanted to continue working in education and in 2005, Eberhardt became the music teacher at Marriotts Ridge High School (MRHS). There, he says, he found his "home."
"All my skills, interests, and experiences had finally come together in one place," he says.
When Eberhardt first arrived at MRHS, there were 7 students in the choir. By the time he left in 2014, there were 180.
Encouraged by his principal, Eberhardt led a number of initiatives at MRHS, including the school improvement team, family and community partnerships, and Alpha Achievers. He also pursued a number professional opportunities outside of school, including becoming the music director at a local church, establishing a private vocal studio at Towson University, opening Red Bridge Studios with one of his friends from Peabody, and running a summer program for young artists.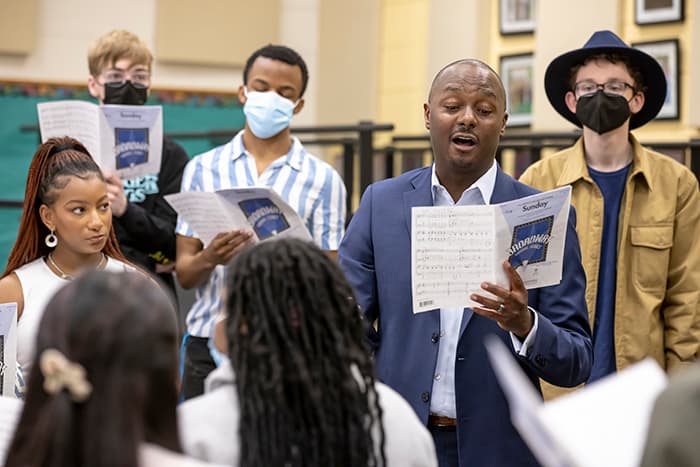 As HCPSS' Music Coordinator, Eberhardt oversees the music curriculum, events, staff, and budget—a role he loves for a variety of reasons.
He values working in a county that places a high value on the arts, noting "We are truly fortunate to be part of a community that is so supportive of and involved in the arts," he says.
Eberhardt also finds great pleasure in working with his colleagues in HCPSS' music department.
"We have the most amazing music teachers here in Howard County. Not only are they high-level musicians; they are kind, empathetic humans who are truly invested in giving students a rich and unique musical experience," he says.
Eberhardt also takes great pride in the HCPSS music curriculum.
"We are teaching students discipline, focus, perseverance, grit—-essential skills and habits that they can apply to any aspect of their lives," he says.
Moreover, Eberhardt says, he loves being part of a program that is helping to inspire students' love of music.
"We help students see that music is something they can take with them wherever in life they go, and that there is a stage out there for everyone. We encourage them to seek out musical opportunities and build them where they don't already exist."