Worthington ES Students and Staff Celebrate Kindness Week
January 10th, 2022
When Worthington Elementary School (WOES) Counselor Julia Southern started to plan WOES' annual Kindness Week, she turned to her own children for inspiration. They suggested organizing the event around the theme of a game or a quest, where students would perform a number of tasks that would lead to a goal or reward at the end.
Southern eagerly embraced the idea, as did Hannah Miller, one of WOES' physical education teachers and Kindness Week co-planner.
"Our students love to play games, so I knew that if we could find a way to build Kindness Week around that idea, it would be a hit," Miller says.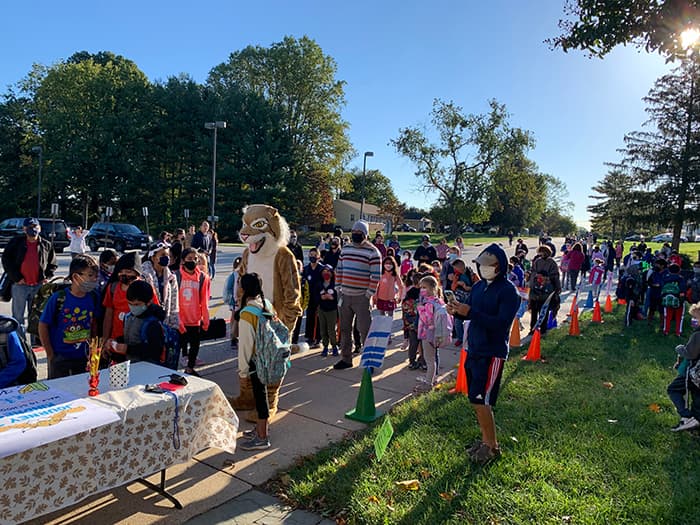 To that end, Southern, Miller, and members of the Kindness Week planning committee developed a series of games and challenges designed to encourage students to think about and practice kindness. These activities included a Walk to School Day, where kindness-related quotes were placed along students' path to school; students being challenged to find kindness-related posters and quotes that had been placed throughout the school; and a stretching challenge in which students had to perform a stretch for every letter in the word "kindness." Students also had the opportunity to become "kindness heroes" by taking part in a kindness-themed obstacle course in their PE classes.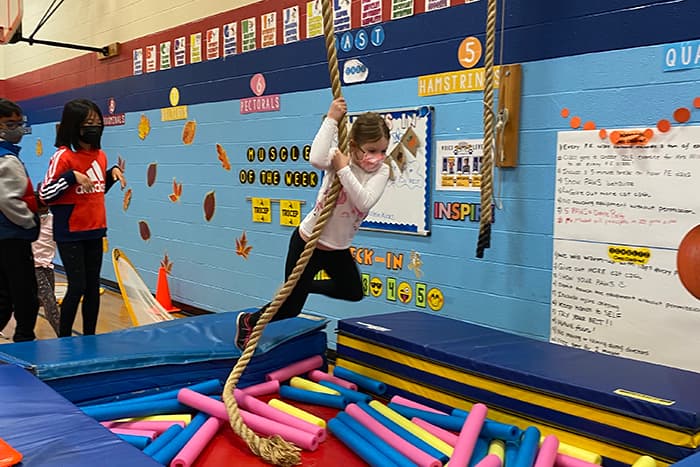 The week culminated in the creation of a paper "kindness crystal." Students and staff contributed individual paper "shards" of the crystal on which they expressed whatever kindness meant to them. Some wrote words or chose colors that they associated with kindness; others selected quotes about the importance of kindness. With the help of WOES art teacher Mary Beth Northen and others, the shards were assembled into a single crystal that was put on display in the school.
"The idea [behind the crystal] was to create a space that 'glowed with ideas' about kindness," explains Miller. "We wanted to make something that all students and staff could contribute to, and that would serve as a visual reminder of our school's commitment to kindness."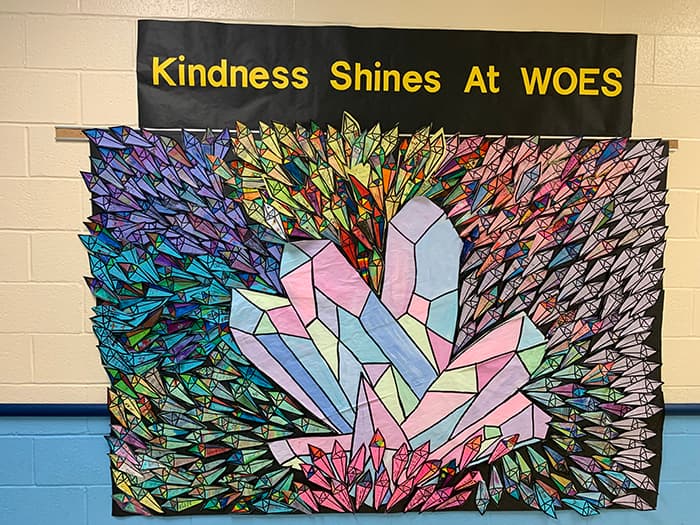 To complement these activities, WOES ran a staff kindness challenge.
"We thought a staff challenge would be a great way to build staff morale and also model kindness for students," Miller says.
Participating staff completed a variety of activities, including recognizing and rewarding the positive behavior of students they do not typically work with. Staff also were encouraged to write notes of appreciation or encouragement to each other; make treats to share; and contribute a "team shard" to the school's kindness crystal.
The end result of WOES' Kindness Week activities was exactly what Southern and her fellow Kindness Week organizers had hoped for.
"We saw so much positive energy from our students and our staff. Kindness Week really brought to light for everyone how even the smallest acts of kindness can make a big difference in terms of how we feel and function as a school community."
WOES Assistant Principal Kelly Ryan was similarly pleased.
"With so many of our learners being virtual for so long, it was critical that we took the time to lift up and re-teach kindness to our school community. Our staff did a fantastic job preparing for the event and our students benefited tremendously from the week."
Kelli Jenkins, WOES' principal, agrees.
"With the return to in-person normalized instruction for our students and staff, Kindness Week really helped us reconnect as a school community. It brought so much joy to our students and staff from the many small acts of kindness. This was wonderful to observe, hear and feel after a difficult eighteen months."