Longfellow Elementary School Author Meet and Greet Supports Initiative to Promote Educational Equity
November 11th, 2021
Longfellow Elementary School's 4th and 5th grade students received a special visit from two local authors on Oct. 19 during their outdoor lunch and recess times. This author "Meet and Greet" featured a father and son, who spoke about each of their books, and held an autograph session.
Eddie Winkley Sr.'s autobiographical book, "Wink"," details his life as an inner-city Missouri youth who overcomes obstacles to graduate from Lincoln University, raise a family and work as an FBI agent.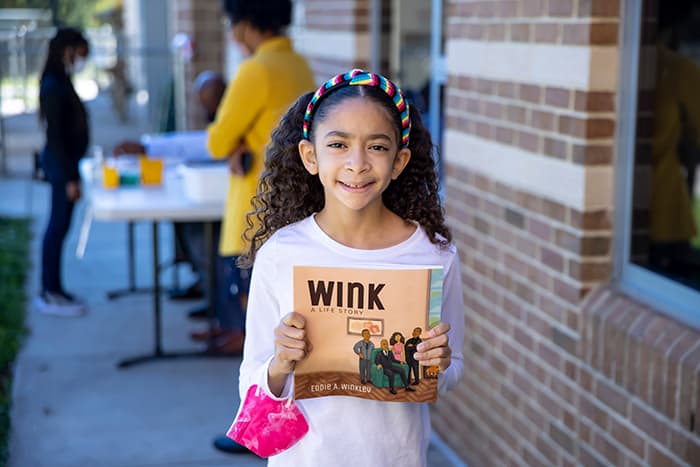 Eddie Winkley Jr. wanted to follow in his father's footsteps by serving in the Air Force and National Guard. He also graduated Summa Cum Laude from American Military University and had a similar desire to write a book. His graphic novel, titled "Outlier" features the adventures of Jaylen Justice, who stumbles upon a mysterious rock that gives him special powers.
Through this event, LOES students had an opportunity to ask questions, learn about the authors' writing processes, and hear about each author's personal journey.
This event is part of a larger initiative that includes Longfellow Elementary as one of 14 pilot schools working with the Maryland State Department of Education to create a climate and school culture that meets the needs of all of our students, and is specifically designed to raise up and positively impact Black boys.
As part of this initiative, Longfellow provides professional learning to support the implementation of culturally responsive programs and practices in classrooms.