Howard HS Student Peter Banyas Elected 2021-2022 SMOB
May 12th, 2021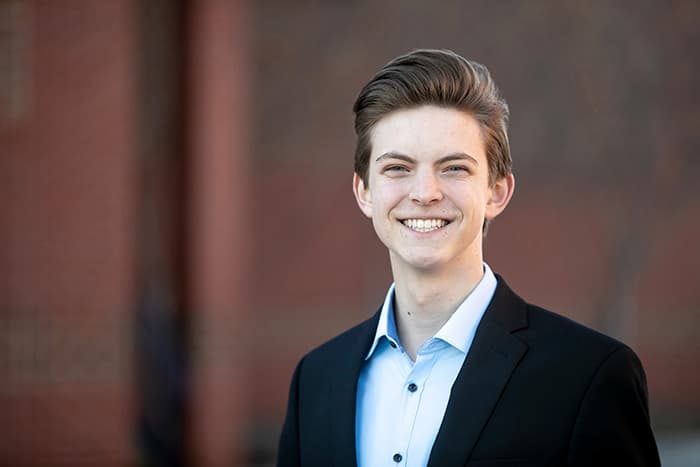 Peter Banyas, a Howard High School rising senior, was recently elected Student Member of the Board of Education (SMOB) for the 2021-2022 school year. The Howard County Association of Student Councils (HCASC) held the election online, May 5-7.
As the new SMOB, Banyas will be eligible to vote on all issues except those pertaining to budget, personnel or other restricted matters.
"I'm thrilled to have the opportunity to represent over 57,000 students as the next SMOB," Banyas said. "I hope to be a thoughtful and positive voice on the Board of Education, and to foster open discussions about the many consequential issues facing our student body."
Banyas has extensive experience in student leadership and community service. He currently serves as the Class of 2022 Student Government Association president at Howard High School, where he runs monthly town halls, called Den Discussions, for students, SGA and staff.
"I have worked with Peter on a number of projects and am certain that his dedication to leadership, enthusiasm for advocacy, and commitment to conversation will continue to be a powerful force when elected as SMOB of Howard County," said one of his fellow Howard students.
Banyas and Glenelg High School rising senior Dhruvi Mirani were the SMOB candidates chosen at the HCASC Convention in February. Banyas and Mirani used social media, personal websites and the HCPSS Student Community Canvas page to campaign. All 6th-11th grade HCPSS students were eligible to vote in the SMOB election through Canvas.
HCASC student leaders facilitate and manage the campaign and election process with guidance from the HCASC advisor and HCPSS central office staff. The SMOB election process aims to empower students in developing skills necessary to be engaged and informed citizens.
For more information, contact HCASC advisor Cindy Drummond at cindy_drummond@hcpss.org or visit the HCASC website.