Hammond HS Senior Recognized Nationally in the Arts
May 13th, 2021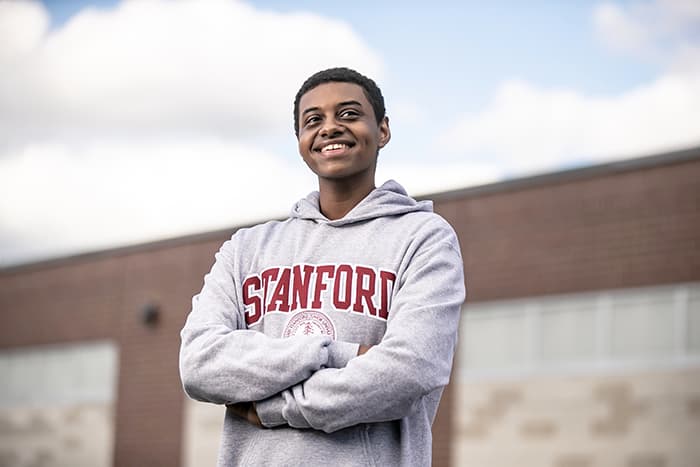 Hammond High School senior Mohamed Elhassan has received numerous national and international accolades for his poetry and artwork. Notably, he's proud of his poem, "We Ask to Not Be Black," which earned him a silver national medal from the Scholastic Art & Writing Awards and is being considered for the organization's anthology. Elhassan's illustration, "And Mama Keeps 'Em Growing," was selected for the cover of international literary journal, Waxwing.
Born in Sudan, Elhassan came to the United States as a young child. His work typically incorporates reflections on his dual identity as American and African, and on issues he cares about, such as animal rights and climate change. His poem, "We Ask to Not Be Black," was inspired by watching the news and feeling vulnerable because he didn't choose his appearance, yet wanting to embrace who he is. The sunflowers in "And Mama Keeps 'Em Growing" symbolize Black Americans and offer a hopeful direction.
Elhassan started to discover his love of creativity in elementary school. But it wasn't until middle school that he got serious about his art after participating in an extracurricular HCPSS arts G/T program. Overall, he credits HCPSS with supporting him along the way, from his ESOL teacher in elementary school to all the staff at Hammond High School, where "people want to see you succeed."
Elhassan's artistic side complements his STEM interests. On the one hand, he likes to put a lot of research into the symbolism in his pieces, and on the other, his creativity helps him think outside the box as he makes scientific inquiries. This summer, he will serve as one of two 2021 National Youth Science Camp delegates for the state of Maryland. And he has earned several scholarships to attend Stanford University, where he will study Symbolic Systems—a combination of humanities and technical sciences—as he fulfills pre-med requirements.
In the long run, Elhassan hopes to make an impact as a physician and scientist. No matter what the future holds, he plans to continue with the arts. Elhassan said, "I'm an amalgamation of my experiences at Howard County, and whatever I do—STEM or artwork—I take them with me. My goal is to put out my thoughts for people to see. It keeps me going."