HCPSS Recognizes National Nurses Week 2021
May 7th, 2021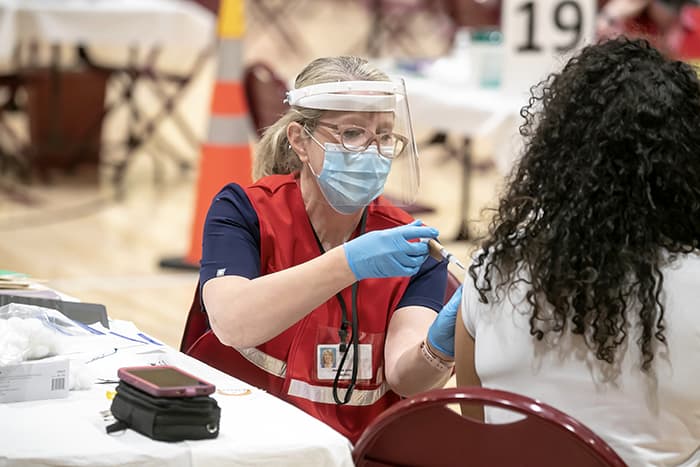 HCPSS celebrates its nurses, health assistants and all other members of the health services team during National Nurses Week, May 6-12, 2021.
"During National Nurses Week, I'd like to take the opportunity to express how deeply our school system appreciates the herculean efforts of our nurses and health staff to support the health needs of our students, staff and community over the past year," HCPSS Superintendent Michael J. Martirano said. "I offer heartfelt thanks to Coordinator of Health Services Kerrie Wagaman and every member of our health services team for their extraordinary efforts and amazing dedication to the care of our school community during this pandemic."
Health services staff, led by Wagaman, have gone above and beyond this year as they have developed and implemented COVID-19 related health and safety plans, in coordination with the Howard County Health Department (HCHD). They worked at county COVID testing centers all last summer, have administered close to 400 COVID tests for HCPSS students and staff, and have spent countless hours supporting contact tracing in collaboration with HCHD. Health staff have also administered more than 20,000 vaccines to both staff and community members through more than 32 HCHD-sponsored clinics.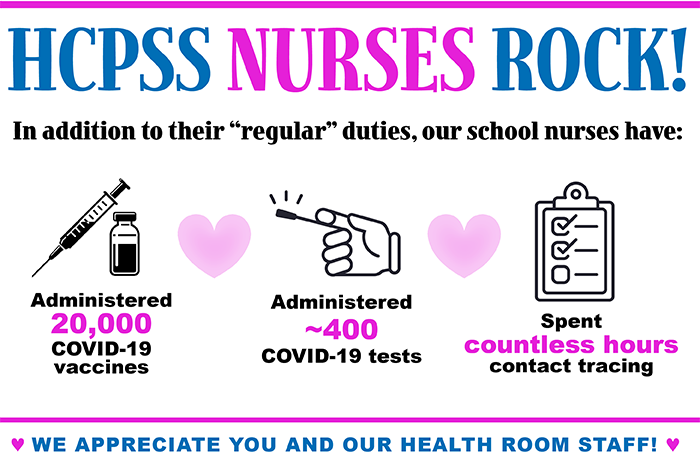 Additionally, the HCPSS health team continues to inform the health and safety measures being implemented in schools and office buildings as students and staff continue to return.
"The Howard County Public School System health room staff are managing all COVID-19 related tasks while still covering regular school health," Wagaman said. "They are handling everything that is thrown at them, and I couldn't be more proud of all of them. "
View a Flickr gallery of HCPSS health services staff run a recent COVID-19 vaccination clinic.