Guest Voices: Building Family and Student Connections During COVID-19
May 20th, 2021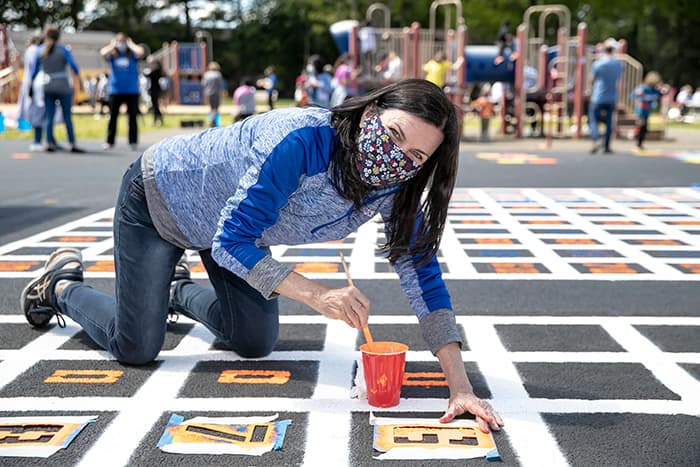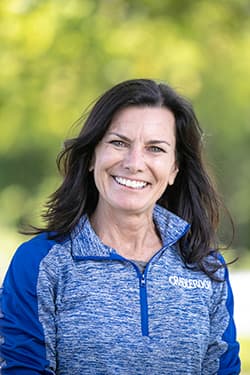 Kathleen Miller has been the Title I Family Involvement Contact at Cradlerock Elementary School (CRES) for the past five years. In this role, she is responsible for supporting and facilitating communication between school and home, engaging families in school activities, and planning family programs. She is married and the mother of three children, the youngest of which will be heading to college in the fall. Here she discusses the importance of community and family involvement and some initiatives and community partnerships that have supported these efforts at CRES.
The importance of cultivating relationships with students, families and the community could not have been more apparent in the past year. While spring 2020 was consumed with device distribution, internet connectivity, password retrievals and crash lessons in Canvas, the possibility that the virtual environment could extend into the following school year was daunting.
The focus in preparing for the 2020-2021 school year became how to build on our existing family outreach, given the limitations of a pandemic. Our solution was to plan family connections in a variety of safe, physically distanced or virtual ways and enlist the help of community partners to do so. We were determined to continue to be an active part of our students' lives in an effort to enlist their engaged participation in school.
The ROCKMobile, the school's version of a book mobile, returned to the community last summer and fall. Hundreds of books and "air hugs" went into the hands and homes of students. This April, the ROCK Mobile got moving again, with plans for June, July and August in the works.
Throughout last summer, the Tune in Tuesday program continued strong, with a new staff read aloud released each week, so families could continue to see and hear their teachers. During the school year, families were invited to submit read alouds as well to give a chance for students to see and hear each other.
For some families, school could not be a top priority when more immediate concerns, including food instability, loomed. Community partner Kiwanis Club of Ellicott City's Backpacks for Break program provided backpacks filled with food to support families this past summer and winter break. Several churches and community organizations, arranged by one of our pupil personnel workers, help sustain a weekly food program for some families. Volunteers, along with Cradlerock and Lake Elkhorn school staff, make deliveries as needed.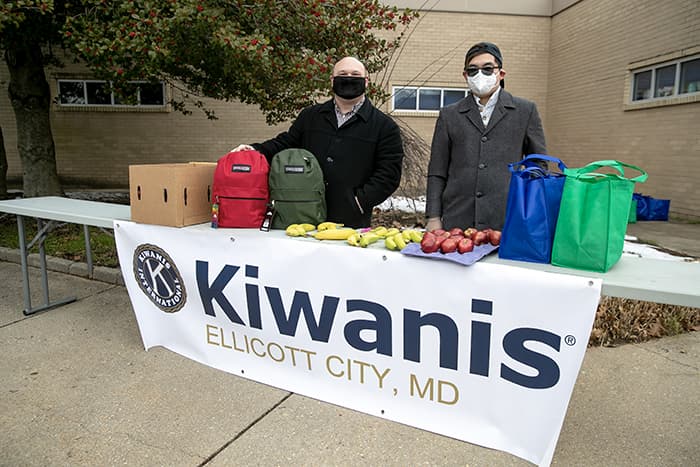 The Family Matters Google Meet series provided a chance for parents to ask CRES staff questions. These sessions gave school staff a lens into common concerns and resulted in more specialized parent programs, such as the virtual Mental Health Matters speaker and discussion hosted through the support of a behavior health expert from partner UnitedHealthcare.
Student screen time and isolation were concerns that continued to worry teachers. A remedy was offered by nonprofit partner Free Bikes 4 Kidz who provided 50 students a bike and helmet in December at no charge.
March brought many students back to the building, and the opportunity to reconnect in a more personal way with those who returned. Through the Howard Soil Conservation District, students participated in preparing and planting a new community vegetable garden at school. The sign outside the garden accurately states, "The Cradlerock Elementary CommUNITY Garden, Where Learning and Caring Take Root."
A generous donation by partner UnitedHealthcare recently provided Cradlerock with an amazing opportunity this May to further build relationships and community pride. The project, "ROCK the Top," encompassed over 12 playground and surrounding area improvements. After months of planning, over 100 volunteers (students, their families and staff) from Cradlerock and UnitedHealthcare spent the afternoon painting and gardening. Thanks to UnitedHealthcare's relationship with Dreambuilders, the project was given an extra hand by Ravens running back Gus Edwards. The event culminated with a ribbon cutting and an official welcome to "The ROCK Top, Where CommUNITY Gathers."
In a year when I was concerned about how we would maintain personal connections with students and families, I am astounded that in many cases relationships blossomed and trust was cultivated. The time and effort invested in a variety of outreach activities helped students and families continue to feel part of our school community, and in return, more ownership for doing their part. Likewise, I am humbled by the level of engagement and support our partners provided to make these connections happen. It has not been an easy year by any measure, but ironically, in some ways we may have emerged stronger and more connected despite being apart.
Photo captions (top to bottom): Kathleen Miller at the "ROCK the Top" event with partner UnitedHealthcare, which included over 12 playground and surrounding area improvements for the school; the Kiwanis Club of Ellicott City's Backpacks for Break program provided backpacks filled with food to support families this past winter break; and students helped with a new community vegetable garden at the school, made possible through the Howard Soil Conservation District.