Clarksville MS Student's Illustration Selected As Cover for New Children's Book
December 10th, 2020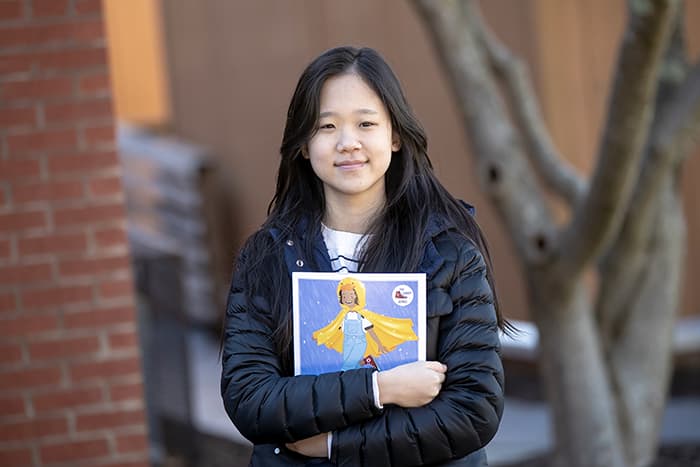 Clarksville Middle School 8th grader Olivia Shim's illustration was recently selected for the cover of the new book, "Step out of the Blues with Gabby's Red Shoes" by author and teacher Carol Van Gorp.
Van Gorp has been developing the Gabby book series for several years. The onset of COVID-19 inspired her to quickly finish and publish her first book in the series, which covers Gabby dealing with sadness to help children during the pandemic and other difficult times. With Van Gorp's love of children artwork, she held a national illustration competition to feature student submissions in the book.
Shim learned about the opportunity last spring in Gifted and Talented Resource Teacher Margaret Brothman's writer workshop. Brothman often shares contests as a way to engage her students during virtual learning, and she learned about the opportunity from Elkridge Landing Middle School's Gifted and Talented Resource Teacher Pattie Holy-Ilenda, a friend of the author.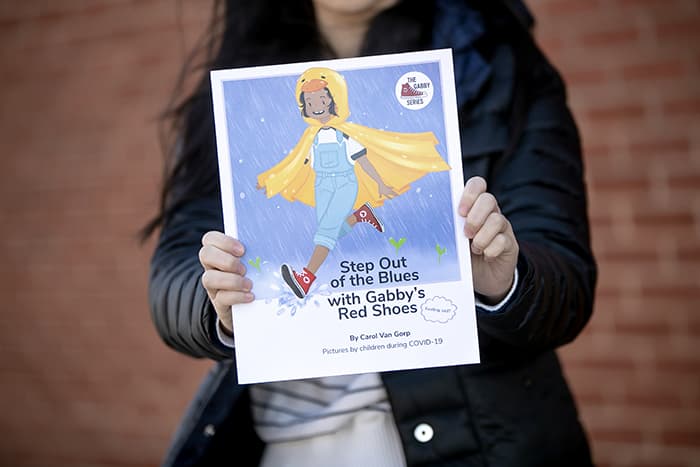 "The picture I created is Gabby walking in the rain," said Shim, who has always had an interest in art. "When I heard this part of the book in Ms. Van Gorp's video, I immediately thought about the times I played in the rain as a preschooler, jumping from puddle to puddle in my Hello Kitty rain boots. Those memories got me attached to that particular line, hence why I decided to illustrate it."
In response, Van Gorp said, "When I saw Olivia's artwork, I thought 'this is Gabby!' and just knew this was the cover."
Out of the wide variety of types of art featured in the book, Shim's illustration is the only digitally created piece. And included among the 22 book pictures are two by additional HCPSS artists: Janet Sun, who entered the contest as a Clarksville 8th grader and is now a River Hill High School freshman; and Chaitra Bhumula, who was an Elkridge Landing 8th grader during last year's competition and now a Howard High School freshman.
"I feel overjoyed about winning this contest. I wish for other kids to see themselves in my illustration of Gabby and feel less alone during these difficult times," Shim said.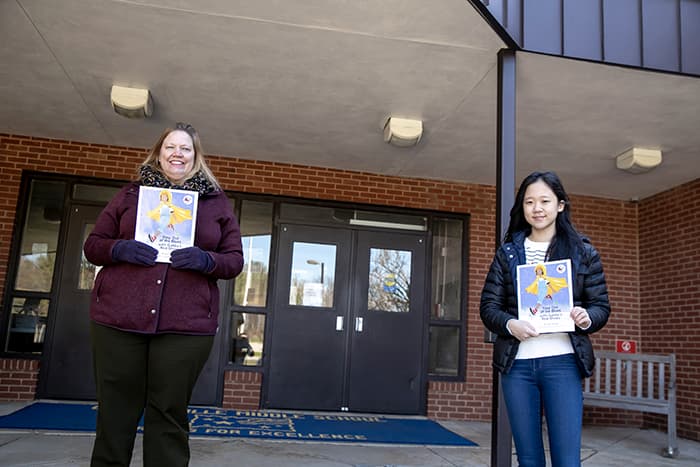 "Step out of the Blues with Gabby's Red Shoes" includes activities and Common Core-based ideas to support families and teachers working with children who feel sad. To learn more about the book, visit the author's website.
Brothman is continuing the relationship with Van Gorp by hosting a virtual author visit for her students.
Caption: cover illustration by Olivia Shim.