Apprenticeship Maryland Student Works on Hammond HS Construction
November 6th, 2020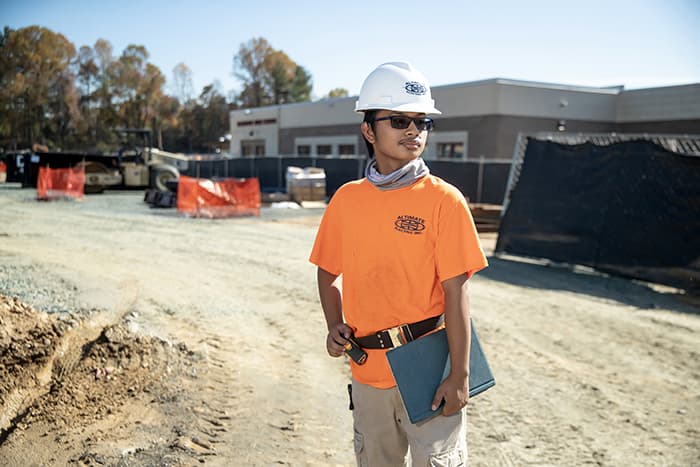 Long Reach High School senior Christopher Borja is enjoying his electrical apprenticeship with Altimate Electric through the Apprenticeship Maryland program, which is in its second year at HCPSS. The Career and Technical Education academy enables students to "earn and learn" through on-the-job training and related instruction, and can lead to certification, licensing, and in some cases, the completion of year one of registered apprenticeship.
With his apprenticeship, Borja has been acquiring hands-on electrical experience while working on the construction of Hammond High School's renovation and addition. Here Borja answers questions about the Apprenticeship Maryland program, why it's a good fit for him and how it will help with his future plans.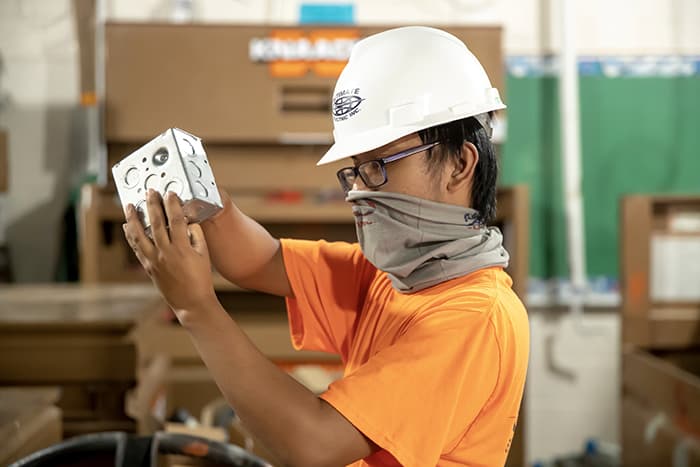 How's your experience with Apprenticeship Maryland been so far?
My overall experience has been good because I enjoy working with my hands the most. I think it's a better pace for me, than at a desk. I have learned a lot on the job. The only electrical experience I had previously was some automotive work, which is completely different than working with a building. Through my electrical apprenticeship, I was taught how to install receptacles and how to hang lights.
What's it like working with Altimate Electric on the construction at Hammond High School?
I have done more hands-on work with this apprenticeship, and I'm currently prefabbing some 1900 boxes [a type of electrical box] to use in the new section of Hammond High School.
How does the virtual learning environment impact your experience with the program?
In some ways, virtual learning is harder, but after working with my classmates in a lab and growing closer, I know I can rely on them if I need help with a subject. Recently the work has become mostly math where one mistake will mess everything up, so we teach each other how to do it. For example, I taught a class how to calculate resistances and current.
We had one in-person lab, following the safety guidelines and working in small groups in full PPE, and we bent some pipe [conduit bending is an essential electrical skill]. This is one example of us helping each other, because one member of our group had never done this before, and we guided him in some simple bends and we had to learn together how to do a saddle bend [which is used to raise a conduit above a small obstacle].
What are your future plans, and how has the Apprenticeship Maryland program influenced those plans?
My plans were to go to college to be an engineer. Now, I would like to first get my electrician master's license before going to college. Not only can I save money for college, but I can also work on the side if needed. With a master's license, I am almost guaranteed a job anywhere I go. I can also earn more money with a master's license, and so the financial burden of college could be less.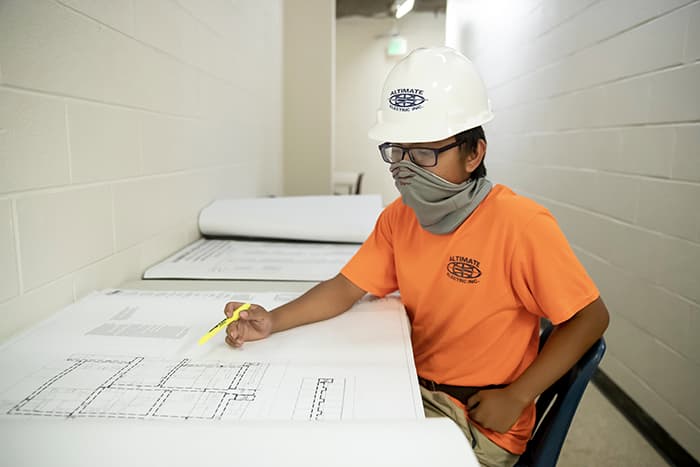 The second cohort of Apprenticeship Maryland students consists of 18 seniors, representing Centennial, Glenelg, Howard, Long Reach, Marriotts Ridge, Oakland Mills, Reservoir and Wilde Lake high schools. The students are working in the electrical, HVAC and direct support professional fields this school year. In addition to Altimate Electric, this year's participating businesses include: BoMark Electric, Hawkins Electric, Humanim, Minnick's Inc., Power Design Inc., Rommel Construction, TEI Electrical Solutions and Windsor Electric.
The first cohort of Apprenticeship Maryland has already proven a great success, with 17 students who completed the program receiving full-time employment offers upon graduation. Additionally, the electrical student graduates are currently participating in the second year of the Independent Electrical Contractors (IEC) registered apprenticeship program.
This spring, Apprenticeship Maryland will continue to offer the electrical apprenticeship program in partnership with IEC Chesapeake and Howard Community College. Interested students can apply, through the Apprenticeship Training Application and Apprenticeship Maryland Academy Student Application, by December 5, 2020; or email questions to Resource CTE Teacher Stephanie Discepolo.
The Apprenticeship Maryland program is a partnership between the Maryland State Department of Education and the Maryland Department of Labor, HCPSS, community education and local business partners and employers.