Food and Fun To Go Program in Lisbon
August 14th, 2020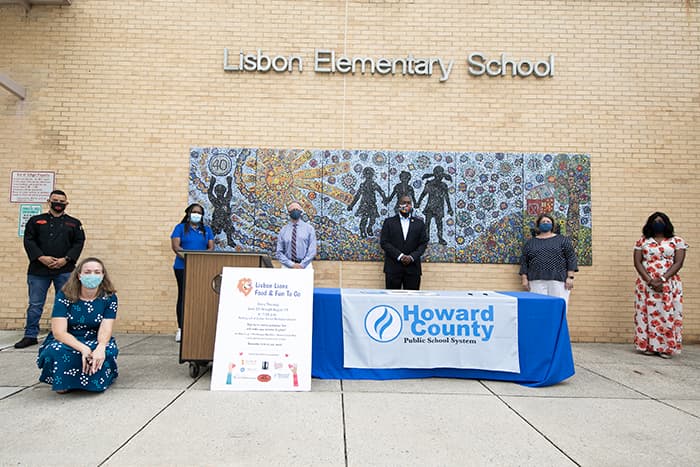 This summer, Lisbon Elementary School has partnered with the Howard County Local Children's Board, Roving Radish, Howard County Library System, Lisbon United Methodist Church and The Grill at Lisbon to provide a food and enrichment program for Lisbon Elementary School families. The partnership was formalized with an official partnership signing on Thursday, August 13 at Lisbon Elementary School in Woodbine, Maryland.
Lisbon Elementary School collaborated with the Local Children's Board to coordinate a weekly food distribution program, beginning in June, that included hot meals from The Grill at Lisbon and family meal kits and Weekend Warrior Snack Packs from Roving Radish. The Howard County Library Glenwood Branch also contributed fun, interactive family STEAM (Science, Technology, Engineering, Art and Math) activities each week. Lisbon United Methodist Church provided volunteers and their parking lot for the Thursday evening drive-through distribution.
For the six-week program, the Food and Fun To Go Program distributed more than 600 meal kits to more than 120 individuals and families, and upon request, families also received diapers and baby food.
Howard County Board of Education Vice Chair Vicky Cutroneo, Superintendent Michael J. Martirano, Ed.D., and Lisbon Elementary School Principal Debra Anoff joined Howard County Executive Calvin Ball, Howard County Department of Community Resources and Services Director Jackie Scott, Howard County Library System CEO Tonya Aikens, Lisbon United Methodist Church Pastor Heather Olson and The Grill At Lisbon Executive Chef Erick Grijalba to sign the formal agreement at the August 13 event.
HCPSS' Partnerships Office has united schools with more than 1,000 businesses and community organizations to enhance the educational experience of Howard County students. Partnerships benefit schools, businesses and the entire community by leveraging the resources of all participants. Partners may commit human or financial resources or other support.