Staff Focus: Diane Curry, English Teacher and JumpStart Lead Teacher, River Hill High School
March 9th, 2020
"I always read. In every picture of me as a kid, I had a book in my hand," Diane Curry said. Curry has taken that passion and turned it into an impressive career of encouraging the next generation of book lovers—she's now enjoying her 21st year in the River Hill High School English department.
No matter the class she's teaching, Curry promotes reading that opens her students' eyes to other perspectives. As a recipient of two Fulbright awards—one in Southeast Asia and one in Japan—she's a big proponent of her students reading broadly to gain insight into different cultures.
To encourage growing a community of readers, Curry has spent the last decade building an independent reading program that empowers her students to choose their own books. She's also organized school reading events and offered HCPSS professional development sessions. And it's worked: the number of books checked out of the River Hill media center has gone up as students are reading for enjoyment more.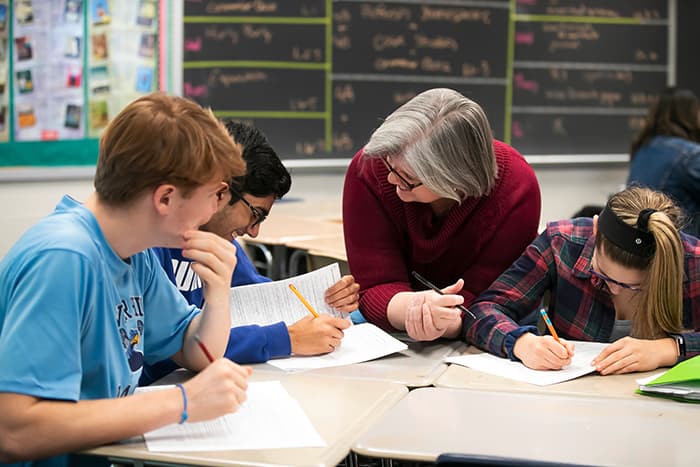 This year, Curry is teaching 10th grade G/T and 11th grade JumpStart English classes while taking on the new role as the lead teacher in coordinating the school's growing JumpStart program, a dual enrollment program with Howard Community College (HCC). JumpStart, available to all HCPSS high school students, enables students to gain college credits or earn an associate degree while still in high school.
"JumpStart is a great opportunity to get kids a head start for college classes, so they have breathing room to explore and make choices," Curry said. "The 11th grade JumpStart English class focuses on writing skills and teaches rhetorical analysis, so hopefully we're helping make students better citizens of the world."
As JumpStart continues to be established and awareness of the program grows, enrollment across HCPSS high schools has skyrocketed. Last year, 1,208 students in JumpStart initiatives earned credit for a total of 2,451 college courses; and this year, 1,775 students enrolled in dual enrollment are working toward earning credit for 4,233 college courses—an anticipated increase of 47% in students and 73% in courses. Likewise, students who receive Free and Reduced-price Meals (FARMs) taking dual enrollment courses increased from 175 students last school year to 257 students this year, an anticipated 47% increase. Most importantly, students are succeeding: 89 percent of dual enrollment courses resulted in students earning an A, B or C.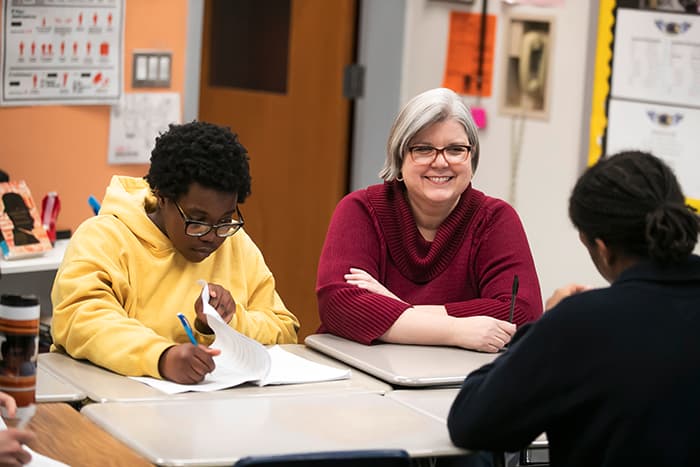 River Hill English Teacher Jocelyn Martin believes Curry's leadership has helped grow JumpStart at the school because her experience and ability to engage students help them see how worthwhile the courses are. "Diane Curry is a passionate and creative teacher who has brought a love of reading to many students and staff at River Hill," Martin said.
Curry's commitment to promoting literacy was honored by the Maryland Humanities Council with the Christine D. Sarbanes Teacher of the Year Award in 2016. She is a National Board Certified teacher who has served as English instructional team leader and a proud mentor teacher to several student teachers. Earlier in her career, she was heavily involved in the Maryland Writing Project as a writer and presenter for professional development.
In short, Curry said, "I love talking about books, when a kid reads something and they want to talk to me about it. I love seeing kids develop as writers and watching them grow."