My Recommended Attendance Area Adjustment Plan
August 22nd, 2019
Dear HCPSS Community:
On January 24, the Board of Education directed that HCPSS initiate a systemwide school boundary review, which could potentially impact any or all of the 74 comprehensive schools in our system for the 2020–2021 school year.
The prospect of change can always be hard and I realize this process invokes a great deal of stress, frustration and concern for many families. I want you to know that a considerable amount of thoughtful work was committed to this process on the part of my staff, our consultants, and members of the Attendance Area Committee (AAC). Furthermore, our community members offered valuable perspectives and ideas through our community input sessions and surveys, all of which was considered equally.
Equity in Action
At this evening's Board of Education meeting, I presented my Attendance Area Adjustment Plan recommendation. My proposal is significantly different than the recommendations presented in the Feasibility Study. Our driving priorities through this process have been to relieve crowding, advance equity by addressing the distribution of students participating in the Free and Reduced-price Meals (FARM) program across schools, and plan ahead for the impact of new High School #13, which is scheduled to open in fall 2023.
I want to emphasize that equity is the underpinning for our Strategic Call to Action and guides all of our decisions and strategies. Equity has been the basis for all of our decisions throughout our boundary review process, as we strive to ensure that all students may have full access and opportunity to receive the best educational services and supports.
My recommendation reflects the priorities expressed by our AAC and community members and considers transportation times and costs, the effective use of existing school resources and other Policy 6010 standards. It also considers our desire to keep school boundaries contiguous, and maintain neighborhood schools and walkable distances for as many students as possible.
Recommendation Summary
I want to share a brief summary of my recommendation though I encourage you to visit our website for greater details.
To address the significant imbalances in school capacity utilization, my proposal would result in approximately 7,396 student reassignments, including approximately 3,194 elementary, 1,351 middle and 2,851 high school students. As a result, 53 schools would be within the 90–110% target utilization defined in Policy 6010, compared with 42 without adjustment. The proposal also minimizes, as much as feasible, reassignments for high schools and families that are most likely to be affected by boundary adjustments for new High School #13, which is scheduled to open fall 2023.
My proposal advances equity by making progress towards leveling FARM proportions across schools, to a result where all elementary schools would have a FARM rate at or below 54%, all middle schools would be at or below 45% and all high schools would be at or below 42%. A total of 41 schools would move closer to the county FARM average of 22.5%.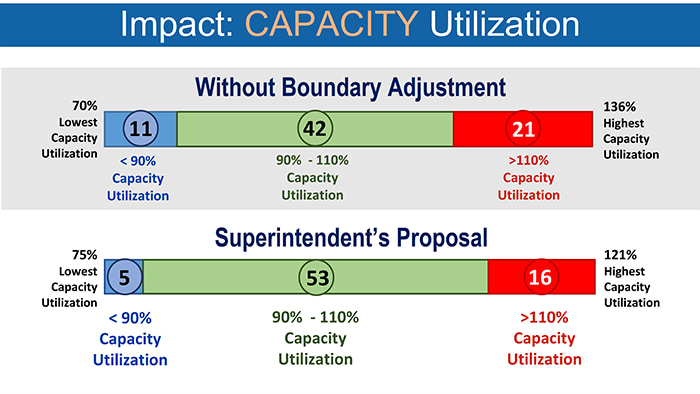 Together, these proposed changes have the potential to substantially improve equity and access to the best educational services and supports for all of our students. At the same time, it is important to keep in mind that these changes don't work in isolation and will not, in themselves, achieve all that we are working to accomplish to improve student achievement and outcomes. We must continue our work, through our Strategic Call to Action, to support every student in all of our schools, and to monitor our progress using outcome data.
Next Steps
The proposal I presented this evening is a recommendation only. The Board's deliberation is the next step in the process, which begins with the Board's public hearings followed by seven Board work sessions. The Board is expected to make a preliminary decision at their final work session on November 18, and their final decision on any boundary line adjustments is expected on November 21.
My recommendation and presentation are posted on our website. Please visit our Boundary Review page for complete information and updates, a schedule and answers to frequently asked questions, and information about how you may submit feedback to the Board. And, watch for updates in HCPSS News emails, Facebook and Twitter.
As I've said before, a successful outcome for this process depends directly on the level of respect, empathy and careful listening that we as adults model for our children. We must remember that they will follow our lead in responding positively to the challenges and changes that are inevitable throughout life. I ask our community to bear civility in mind as we continue this process. Regardless of the outcome, every child at every school in our county will continue to have access to an excellent education.
Sincerely,
Michael J. Martirano
Superintendent