First Cohort of Students Commit to Apprenticeship Maryland
June 18th, 2019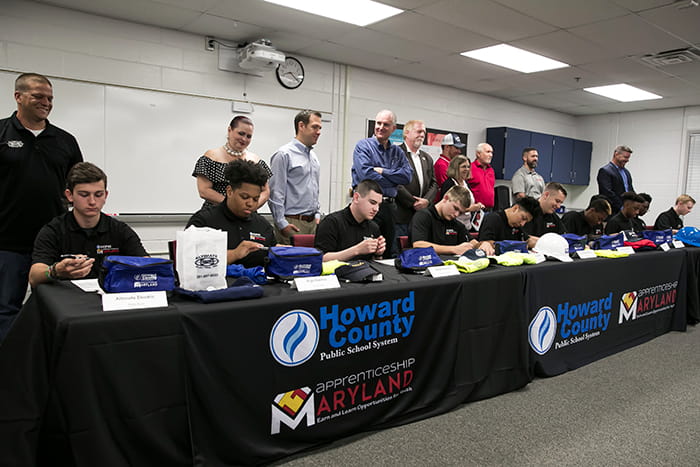 During a recent Signing Day ceremony, 17 rising HCPSS seniors from around the school system–representing Atholton, Centennial, Glenelg, Hammond, Long Reach, Mt. Hebron, Oakland Mills, Reservoir and Wilde Lake high schools–officially committed to participate next year in the school system's newest Career and Technology Education academy, Apprenticeship Maryland. The youth apprenticeship program provides students the opportunity to "earn and learn" through on-the-job training and related instruction that can lead to certification, licensing, and in some cases, the completion of year one of registered apprenticeship.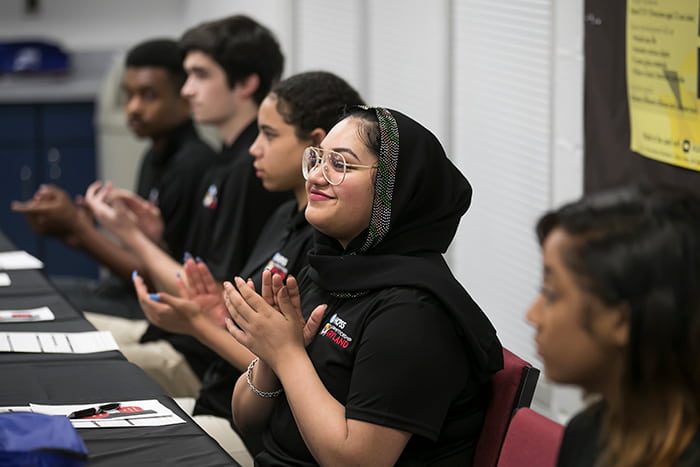 The first cohort of Apprenticeship Maryland students will work in fields such as cosmetology, human resources, electrical, HVAC and information technology. The Apprenticeship Maryland program is a partnership between the Maryland State Department of Education and the Maryland Department of Labor, Licensing and Regulation (DLLR), HCPSS, community education and local business partners and employers.
This year's participating businesses include: Independent Electrical Contractors Chesapeake and their contractors, Altimate Electric Inc, Argo, Bopat Electric, FB Harding, Grounded Electrical Construction, Hawkins Electric Services Inc, R.E. Newcomb Electric, Rommel Construction, TEI Electrical Solutions, and Windsor Electric; DARCARS Automotive Group; Howard Tech Advisors; Humanim; Mead Tree & Turf Care; Minnick's; and Salon Tusey.