Annapolis Maritime Museum & Park Partnership Provides Hands-on Learning for Mount View Middle School
June 4th, 2019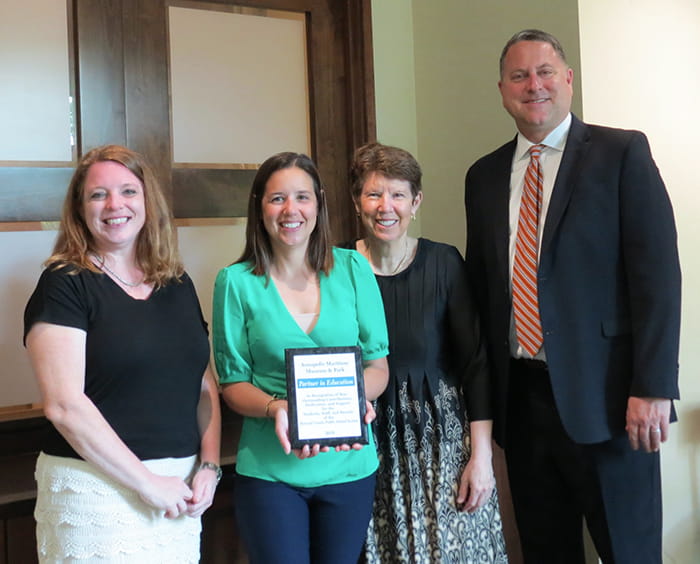 Mount View Middle School (MVMS) has partnered with Annapolis Maritime Museum & Park (AMM) to educate students about shellfish ecological restoration and aquaculture activities that improve the environment in the Chesapeake and Coastal bays. The partnership was formalized with an official partnership signing on Monday, June 3 at the Sheraton Columbia Waterside Restaurant in Columbia, Maryland.
Under the terms of the agreement, AMM will provide opportunities for students to learn about the history of oyster harvesting in the Chesapeake Bay, the biology of oysters and the ecosystem of oyster reefs. AMM will invite MVMS to keep oyster cages on AMM docks and will provide weekly access for students and families to maintain the oyster cages and conduct water testing. MVMS will conduct oyster cage counts and will report the results to AMM.
HCPSS Area 3 Community Superintendent Pat Saunderson, Mount View Middle School Principal Allen Cosentino and Gifted & Talented Resource Teacher Susan Mako joined Annapolis Maritime Museum & Park Board Chairman Carol Sisco and Education Director Sarah Krizek to sign the formal partnership agreement at the June 3 event.

The Annapolis Maritime Museum educates youth and adults about the Annapolis area's maritime heritage and the ecology of the Chesapeake Bay through programs, exhibits and community events. AMM accomplishes its mission through hands-on programming and by bringing visitors to its location, at the mouth of Back Creek overlooking the Chesapeake Bay.
The Howard County Public School System's Partnerships Office has united schools with more than 1,000 businesses and community organizations to enhance the educational experience of Howard County students. Partnerships benefit schools, businesses and the entire community by leveraging the resources of all participants. Partners may commit human or financial resources or other support.