HCPSS Schools Nurture Student Social-Emotional Well-Being
May 2nd, 2019
HCPSS schools are working to ensure students are set up to thrive socially and emotionally, in part through programming during Children's Mental Health Awareness Week, May 5-11, and throughout the year. The following are a few highlights of school activities and events that promote student social-emotional well-being.
Bollman Bridge Elementary

During Children's Mental Health Awareness Week, Bollman Bridge Elementary School is raising awareness through mental health classroom lessons, a schoolwide poster contest and a "wear green" awareness day. The school will also host a Wellness Resource Fair on May 13 with mini-sessions on mindfulness and self-care, vendor tables, and guest speakers. Throughout the school year, students participate in a daily social-emotional learning curriculum and receive monthly lessons from counselors on social-emotional strategies.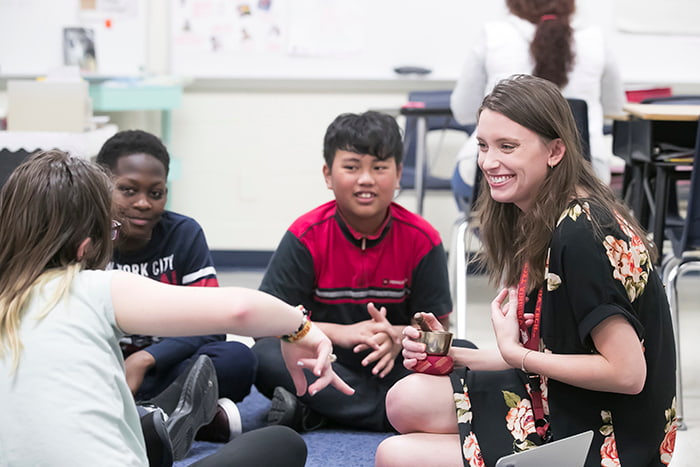 Hammond High

Among Hammond High School's many efforts, the school started a Wellness Committee this year to encourage staff and student well-being. A few examples of their initiatives include: free on-site yoga classes for staff and students, mindfulness curriculum, lunchtime midterm stress busters, and monthly hikes.

Reservoir High

Reservoir High School offers programming throughout the year to support student well-being. In March, its Active Minds Club, along with the school psychologist, hosted a week of Start with Hello activities to promote connectedness and inclusion. This month, the school is holding a Reservoir Strong Assembly to celebrate its school community and emphasize that every person matters through inspiring music, dance, poetry and other spoken word performances.
These school initiatives support HCPSS' Strategic Call to Action to ensure the academic success and social-emotional well-being for each student in an inclusive and nurturing environment. Bollman Bridge School Counselor Lynsay Gillis explained, "The goal of our activities is to close opportunity gaps and allow all students access to social-emotional supports. Our programming will connect our diverse population with resources while empowering families to access mental health services."
Learn more about staff and community roles that provide supports to students.