Guest Voices: Through the Lens of a Student
May 15th, 2019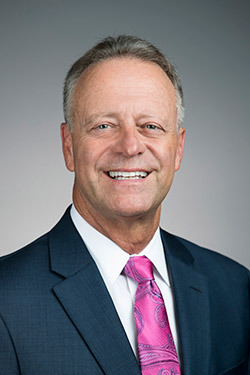 On Wednesday, May 8, 2019, HCPSS Superintendent Dr. Michael J. Martirano spent the day at Wilde Lake Middle School shadowing students to gain a better understanding of the academic experience from a student's perspective. Here, he reflects on his experience.
Every day I make decisions as Superintendent that directly impact our students and staff. I rely on my experiences as a teacher, school administrator and superintendent and on valuable insights from system leaders, school staff and community members. However, nothing can replace the insights gained from personal experience.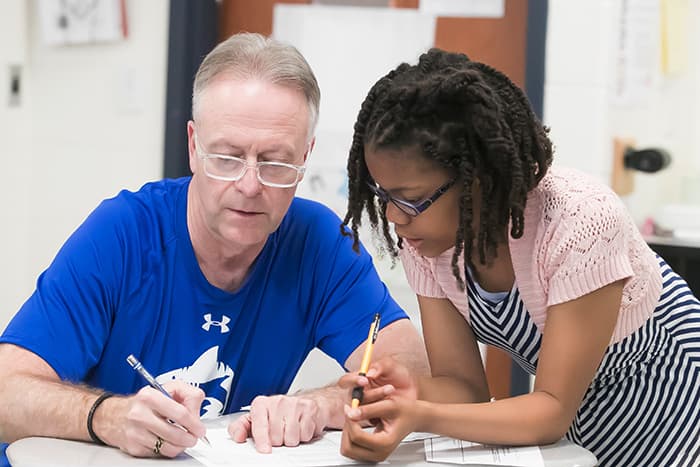 Last year, I had the great pleasure of spending the day as a Hammond High School Golden Bear and shadowing senior Mandi Bhatt. I gained an invaluable perspective by talking directly with students at lunch, being integrated directly into the classroom, and walking the halls as a student.
For a new and unique view on the student experience, I recently attended Wilde Lake Middle School, splitting my day between two students – 6th grader Raquel Rookwood and 8th grader Tariq McRae.
Ultimately, my experience was pretty typical of a middle school day. I attended mathematics, English language arts, reading, chorus, PE and even lunch in the cafeteria. I participated in a Shakespeare-inspired sword fight, collaborated in math with my 6th grade peers, was the only bass in the chorus, "ran" a bit of track, bought lunch and had wonderful lunchtime conversations. During my lunchtime conversations, my new peers and I found many common interests including our favorite parts of the school day, favorite sports teams, and of course, Run DMC. I laughed a lot, learned a lot, and deeply expanded my first-hand knowledge of what our students and classroom educators experience each day.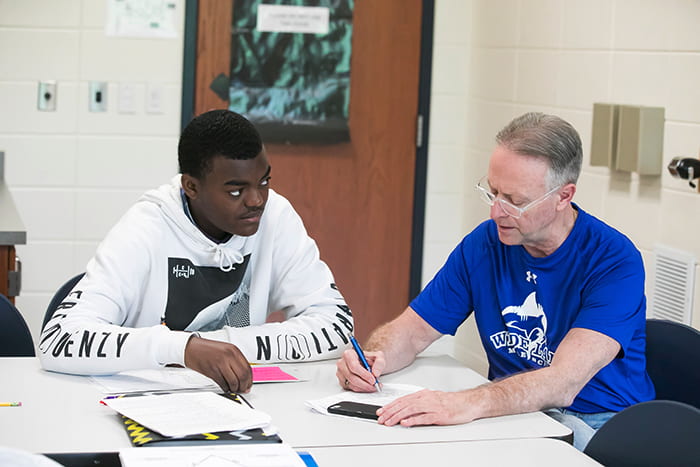 I spent several years as a middle school math and science teacher. It is a wonderful age to teach, but it's not easy being a student in middle school. The young mind (and body) is growing and expanding so much during those years, and it can be a difficult experience for some children. Academically, they are experiencing a world very different from elementary school in preparation for the rigors of high school.
However, I walked away feeling stronger than ever that providing social-emotional supports for students is critical. I passed many smiling faces in the hallway, heard the wonderful sounds of laughter and conversation in the cafeteria, and experienced student engagement in the classroom by so many students. I also saw some students walking with their heads down, solemn expressions on faces, and students attempting to disengage in the classroom. These students are not always easily identifiable because they have become adept at not being noticed. Our school-based and centrally-based staff are establishing many individualized mental health and academic supports, and we must continue to expand those until every child is receiving the help they need to thrive in the classroom and beyond.
Another impression from the day is how staff leverage each child's unique strengths and interests to engage them into the academic experience. Wilde Lake's wonderful Principal, Anne Swartz, did a marvelous job of pairing me with two students who were a terrific personality fit with me. Raquel and Tariq are both happy, positive, smiling, inclusive students who are simply a ray of sunshine in that school. They were at their best when they were engaging with their peers and adults. I saw other students who shined while collaborating through technology, working in a very small group, or reenacting Shakespeare. One student uses a standing desk in algebra because standing helps him focus. Each child is unique and the staff at Wilde Lake are providing individualized instruction and supports that leverage the strengths of students while helping in areas of need.
I was immensely impressed with my host students- Raquel and Tariq. It is not an easy task to have the Superintendent – or any adult – by your side throughout the entire school day, and they handled it with impressive maturity and composure. Additionally, it is not an easy task to have the Superintendent in your class as a student, and the wonderful educators at Wilde Lake were phenomenal. I appreciate them allowing me to experience their classroom, and I couldn't have been more impressed with the engaging academic experiences that occurred while I was there.
The day served as a remarkable experience that will influence my thinking more than any meeting or report could ever hope to accomplish. I appreciate the administrative team, led by Ms. Swartz, and the entire staff at Wilde Lake Middle School for hosting me and allowing me to gain these valuable insights. As Superintendent, I will continue to learn from students and gain the knowledge I need to lead this system to fulfill my Strategic Call to Action with The Fierce Urgency of Now.