Staff Focus: Suzanne McMurtray, ARL Liaison, Homewood Center
April 4th, 2019
When Suzanne McMurtray entered her initial Homewood Center interview, she was not familiar with its alternative school programming but was instantly "blown away by the school's kindness and community. It had a really honest family atmosphere."
It was 2007, and McMurtray was ready to re-enter the workforce after taking time to raise her three sons–now all graduates of Howard County public schools. Previously she had taught in private schools and even tried her hand in commercial insurance marketing. She was then intent on joining the HCPSS community, and her long-term substitute position turned into something more permanent at Homewood–which meets the needs of students who have difficulty functioning in traditional classroom settings.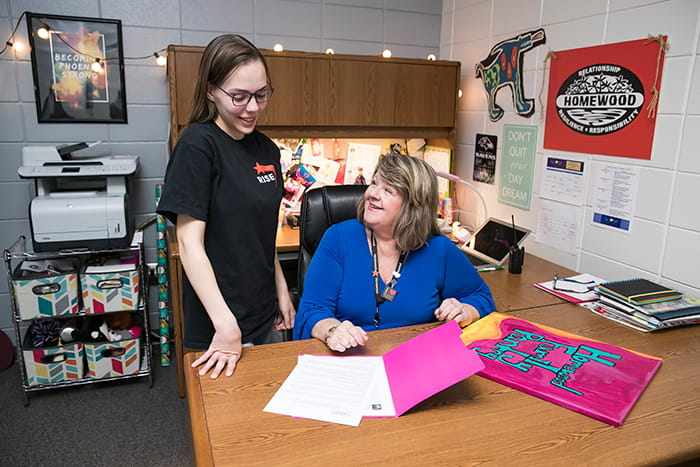 McMurtray began as a computer science teacher at Homewood, a position in which she was voted the school's Senior Class Teacher of the Year. Now she wears many hats, including: Applications and Research Laboratory (ARL) liaison, Gateway High School team leader, community outreach coordinator, Positive Behavior Interventions and Supports (PBIS) coach, restorative circle champion and grant writer. In short, she's busy ensuring Homewood students in ARL and Gateway programs have what they need to succeed, providing students and families with supports and resources, cultivating a positive school environment and uplifting staff.
According to McMurtray, what ties everything together is relationship-building: "We only see behavior changes when students can see that their choices make a difference and can envision life beyond these four walls. I know that connection piece is our bread and butter at Homewood."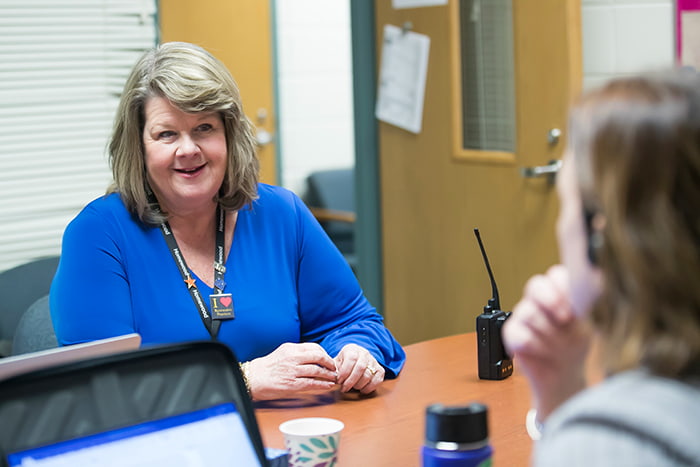 One way McMurtray has become a school and systemwide leader in promoting positive relationships is through her restorative work. She helped bring the restorative approach to Homewood in 2012, and now it's ingrained in the school's culture with classrooms offering weekly community building circle discussions. Additionally McMurtray leads restorative circles when emotional healing needs to take place, as well as co-teaches a professional development course on restorative practices for HCPSS school teams.
If that wasn't enough, McMurtray endlessly uses her advocacy skills to further the school's mission, whether it's through writing grants to support a senior mentoring program, acquiring resources from high school PTAs across the county, or testifying before the Board of Education to secure student activity funding for ARL and Homewood. Notably, she's creating a community outreach hub that features a family pantry stocked with food, clothing and toiletries–an undertaking that requires ongoing community outreach, donation solicitation and promotion.
Homewood Principal Christina Krabitz said, "Suzanne's community outreach especially makes her stand out, as she is constantly doing something and connecting with others to get the supports and opportunities needed for our kids, families and staff. So much of where we are, growing as a school community, is driven by Suzanne."
Upon reflection, McMurtray is incredibly proud of her own kids and the investment she made in her family, and in turn, she's compelled to be the champion for her Homewood students. McMurtray said, "My job gives me life. I feel energized when something goes well, when a kid says, 'people look at me and really see me.' That speaks volumes to me."