Ellicott City Soccer Club Brings Get on the Bus Program to Deep Run and Talbott Springs Elementary Schools
February 1st, 2019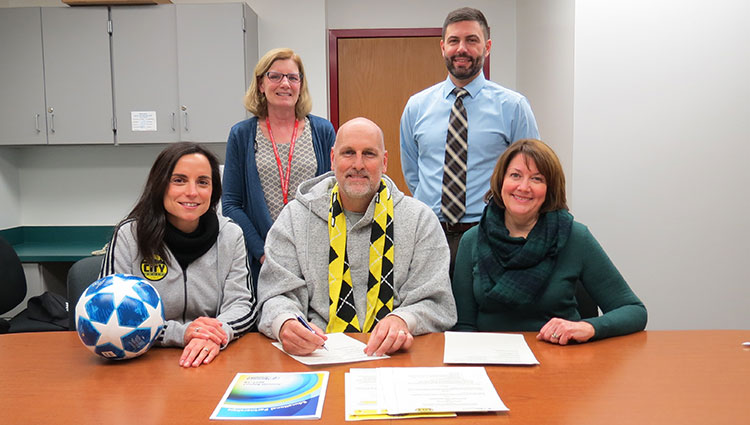 The Howard County Public School System (HCPSS) has partnered with the Ellicott City Soccer Club (CiTY) to provide opportunities for students to participate in after-school programming that promotes an active lifestyle. The partnership was formalized with an official partnership signing on Tuesday, January 29 at Talbott Springs Elementary School in Columbia, Maryland.
Under the terms of the agreement, CiTY will offer a free six-week Get on the Bus after-school soccer program for fourth and fifth grade students at Deep Run and Talbott Springs elementary schools. The Get on the Bus program provides students with homework assistance, soccer apparel, transportation and a recreational soccer program. HCPSS staff will collaborate with CiTY staff to provide recommendations for educational games, homework help and healthy activities for students.
Deep Run Elementary School Principal Denise Lancaster, Talbott Springs Elementary School Principal Nancy Thompson and Assistant Principal Paul Linkins joined Ellicott City Soccer Club Executive Director Tim Ryerson and Business Development Manager Amanda Buckler to sign the formal partnership agreement at the January 29 event.
The Ellicott City Soccer Club offers training and clinic programs for all playing levels and ages through its recreational, travel and "playground soccer" programs.
The Howard County Public School System's Partnerships Office has united schools with more than 1,000 businesses and community organizations to enhance the educational experience of Howard County students. Partnerships benefit schools, businesses and the entire community by leveraging the resources of all participants. Partners may commit human or financial resources or other support.