Students at Seven Schools Turn Food Scraps Into Compost
October 24th, 2018
If "you are what you eat," then what happens to everything left uneaten? Students at seven HCPSS schools have an answer.
For the past five years, students at Clarksville Elementary, Clarksville Middle, Elkridge Elementary, Elkridge Landing Middle, Pointers Run Elementary, River Hill High and Rockburn Elementary schools have participated in food scrap collections in their cafeterias in partnership with the Howard County Environmental Services office.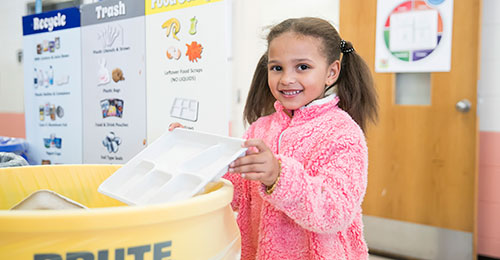 "Among our participating students, there is a heightened awareness of the benefits of composting," said Larry Phillips, HCPSS manager of custodial services. "This program has resulted in an average of 70 pounds of compostable material being generated daily at each of the seven locations. During the course of the school year, it adds up."
That's approximately 490 pounds of compostable material from each school daily, or more than four tons combined annually. Most importantly, students are learning of the impact they can have on the environment by the simple practice of putting food scraps in the designated yellow bins located in their school cafeterias.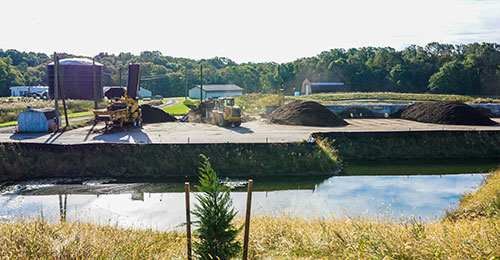 Sarah, a 7th grade student at a participating school, commented that, "Our Earth needs more respect and generosity. This [initiative] will help people understand they can do more for the Earth – they can participate and feel good about it."
Ziv, a 2nd grade student, noted that, "If we use it, then we can create compost and make the Earth more healthy and also make the plants grow."
Conor, a kindergarten student, shared that, "I know how to throw my food in the right can, and my favorite color is yellow."
At a press conference located at the Alpha Ridge Landfill on Wednesday, October 17, Howard County Executive Allan Kittleman announced that the composting facility will double its capacity and service. Phillips, who spoke at the event, commented that, "HCPSS has been able to reinforce the composting efforts already happening in many homes and teach this valuable environmental benefit to students who are not currently composting where they live."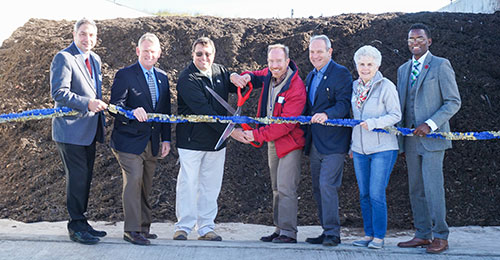 « Glenelg's Wande Owens Breaks 28-Year-Old Howard County Career Rushing Record