HCPSS Thanks Community Partners for Their Contributions at 2018 Celebration
October 8th, 2018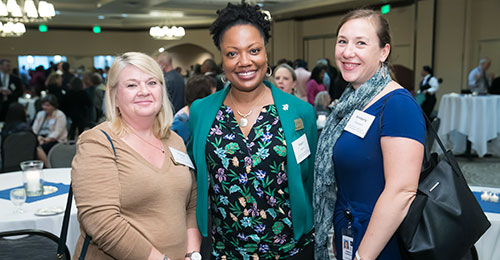 Over 400 attendees, including community partners, Superintendent Michael J. Martirano, members of the Board of Education, and school and system representatives joined together for the 32nd annual Howard County Public School System Educational Partnerships Celebration at the Sheraton Columbia on September 25.
The event celebrated the contributions of more than 1,000 businesses, non-profits, government agencies, civic clubs, colleges and universities, faith-based groups, military commands, trade associations, and professional organizations who commit human, financial and other resources to the school system each year in a united commitment to enhance the educational experience for Howard County students. Partnerships benefit schools, businesses and the entire community by leveraging the resources of all participants.
"Our community partners serve a valuable role in preparing students for success in college and the workforce," said Superintendent Michael J. Martirano. "We are indebted to the hundreds of businesses, government agencies and non-profit organizations that offer internships, serve as mentors, and collaborate with staff to complement and enhance our educational program."
View the HCPSS Educational Partnerships Annual Report to see the complete list of HCPSS partners and partnership highlights.
View photos from the celebration.
« Clemens Crossing Named 2018-2020 National PTA School of Excellence
Board of Education to Meet in Closed Session, October 8, 2018 »