Clemens Crossing Named 2018-2020 National PTA School of Excellence
October 4th, 2018
The National PTA has recognized Clemens Crossing Elementary School as a 2018-2020 School of Excellence. Clemens Crossing and its PTA have been committed to building an inclusive and welcoming school community where all families contribute to enriching the educational experience and overall well-being for all students. Clemens Crossing is one of only three schools recognized with this distinction in Maryland.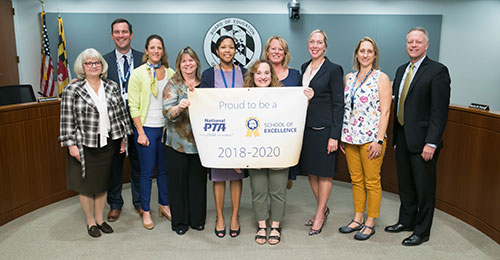 "Family engagement is essential for the success of our school. Here at Clemens Crossing, we continually try to plan engaging activities for our families," Clemens Crossing Principal Edward Cosentino said. "When families are involved, students take more responsibility in their learning."
Throughout the 2017-18 school year, the Clemens Crossing PTA and school administration embraced an initiative called, "Whole Child, Whole Health." A committee of PTA volunteers and school staff provided social and emotional wellbeing resources in the weekly school newsletter, covering topics such as building resilience, health tips and sleep hygiene. The PTA and school also sponsored health and wellness programs, including a viewing of the movie "Screenagers."
"Students learn best in a nurturing, welcoming environment, and I think of our PTA, in some ways, as the 'welcome committee' for our school," Clemens Crossing PTA President Karen Pang said. "Our PTA gives parents a place to volunteer, students opportunities to shine and everyone a chance to make the school feel more like a home."
Superintendent Michael J. Martirano recognized Clemens Crossing staff and PTA at the Oct. 2 Board of Education meeting.