Students' T-shirts Support Ellicott City Flooding Relief
December 21st, 2016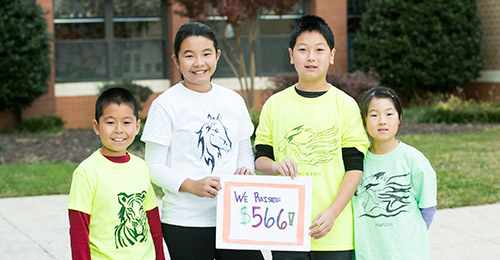 Four HCPSS students raised more than $500 for the Ellicott City flooding relief by selling their hand-drawn animal themed T-shirts. The student-led initiative donated the funds to the Ellicott City Partnership and a Howard County Chinese School fundraiser for Ellicott City, this fall.
Pointers Run Elementary School 4th grader Amanda Wang started the fundraiser to raise awareness on how animals are affected by floods and to encourage other kids to play active roles in their community. Wang said, "I wanted to remind people to help animals, especially after natural disasters. Also, I wanted to show other kids that we can do stuff, too. We have some power and can help."
Wang's T-shirt team included her brother, Clarksville Middle School 6th grader Arthur Wang; Clarksville Elementary School 5th grader Ella Jiao; and Clarksville Elementary School 2nd grader Alex Jiao. The students drew more than 80 animal T-shirt designs including horses, cheetahs, tigers, lions, panthers, giraffes and eagles. They sold the shirts through two fundraising events at Howard County Library System Savage Branch and Howard County Chinese School.
The students received overwhelming support from the community, with customers often donating extra money in addition to their T-shirt purchases. The Wang and Jiao siblings expressed their appreciation for the generosity as well as the lessons learned in communication, confidence and taking on a challenge.
Dr. Chao Wu, on the Board of Directors of the Columbia Association, said: "I am so happy to see this generation care about the real world. They are contributing to our society and neighborhood. I would like to see more and more good deeds like this in our community."
As the school communities have learned about the T-shirts, the students continue fulfilling T-shirt orders and fundraising.