HCPSS Partners with Horizon Foundation to Offer and Promote Healthy Eating, New Fruit and Vegetable Bars to Open at Three Elementary Schools
April 4th, 2016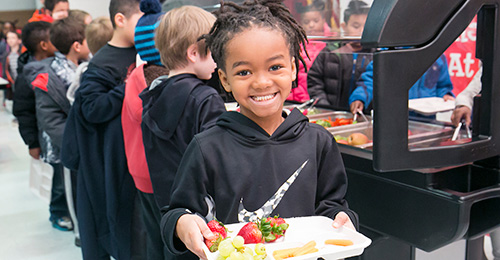 The Howard County Public School System's Office of Food and Nutrition Services has partnered with the Horizon Foundation to develop and implement an innovative program focused on promoting the link between nutrition, education, physical activity and living a healthy lifestyle.
The school system will open fresh fruit and vegetable bars in April at three HCPSS elementary schools: Bollman Bridge, Laurel Woods and Talbott Springs. These fruit and vegetable bars will be stocked with a selection of seasonal offerings such as red grapes, tangerines, cucumbers and Romaine lettuce. This two-year pilot program is funded by a $200,000 grant from the Horizon Foundation and will double the amount of fruit and vegetables offered at lunchtime in the schools. To introduce students and families to the new offerings, schools will offer taste testing events. Also as part of the pilot, each school will collaborate with community partners to offer several hands-on programs for families to learn about nutrition and healthy lifestyles.
"This new program supports the Vision 2018 commitment to health and wellness by expanding the healthy options provided to students," said HCPSS Superintendent Renee A. Foose. "The school system is grateful to the Horizon Foundation for its commitment to giving students a wider range of high quality, healthy choices, and teaching healthy eating habits to students and families."
"The Horizon Foundation cares deeply about the health of our community's youngest residents, and we are very excited to support the school system's first fresh fruit and vegetable bars," said Nikki Highsmith Vernick, president and CEO of the Horizon Foundation, which focuses on health and wellness in Howard County. "With a wide variety of options from honeydew to cherry tomatoes, we know kids will love finding old favorites and new selections."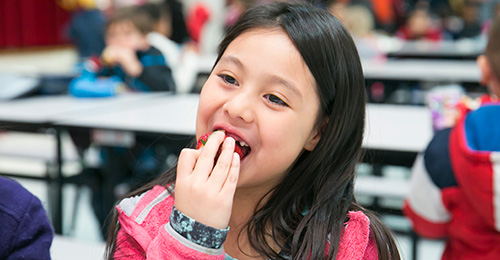 The grant supports ongoing HCPSS efforts to improve the variety of healthy options provided in school meals. As part of the pilot, at the beginning of the 2016–2017 school year, HCPSS will introduce a new lunch menu at the three schools with more healthy and nutritious options that incorporate fresh fruits and vegetables and appeal to student tastes. HCPSS also recently introduced Nutrislice, a new online site and mobile app that provides up-to-date school menus and nutrition information.