HCPSS Names 2016 Principal and Teacher of the Year
February 11th, 2016
Bonnie Branch Middle School Principal and Centennial High School Teacher Selected

The Howard County Public School System today announced its 2016 Principal and Teacher of the Year. Bonnie Branch Middle School Principal Cher Jones and Centennial High School Biology teacher Shalonda Holt were awarded the honors, respectively. Both will serve as the Howard County nominees for the Washington Post Principal and Teacher of the Year. Holt additionally will be the Howard County nominee for Maryland State Teacher of the Year.
"I am so impressed by Cher and Shalonda. They contribute in such a powerful way to preparing their students for the future," said HCPSS Superintendent Renee Foose. "I am extremely pleased that these two exceptional educators and leaders are being recognized in this way. They are great examples of the character and dedication found in our school system."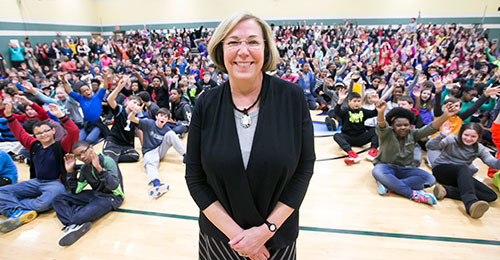 Cher Jones, Bonnie Branch Middle School Principal, HCPSS Principal of the Year
Cher Jones has been the principal of Bonnie Branch Middle School since 2012. She has served the Howard County Public School System for over 26 years as a special education teacher, assistant principal and principal.
Jones is being recognized for using innovation and collaboration to create a supportive and positive atmosphere in her school community that addresses the needs of a diverse student population. She has created an environment where staff, students and parents work together to improve the quality of instructional programs.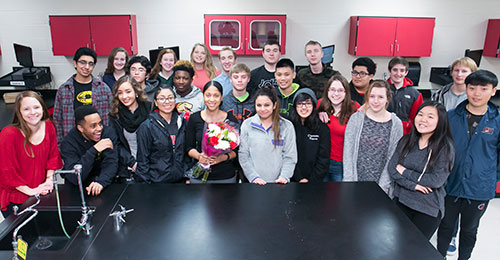 Shalonda Holt, Centennial High School Biology Teacher, HCPSS Teacher of the Year
Shalonda Holt has taught biology at Centennial High School for nine years. She has had a powerful impact on administrators, fellow teachers and her students.
Centennial High School Assistant Principal Tracy Scaltz called Holt, "One of the most talented teachers and compassionate individuals I have ever met."
Described as "a hard working, tender hearted and determined teacher" by one of her students, Holt is being honored for her motivation to create a safe and nurturing environment for her students.
Additional nominees for Principal of the Year were:
Troy Todd, Running Brook Elementary School
Genee Varlack, Forest Ridge Elementary School
Additional nominees for Teacher of the Year were:
Nikia Darden, Forest Ridge Elementary School
Allyson Glassband, Talbott Springs Elementary School
Philip Herdman, Clarksville Middle School
Kristin Kirby, Fulton Elementary School
Susan Langley, Forest Ridge Elementary School
Kevin Miller, Reservoir High School
Kelly Olsen, Clemens Crossing Elementary School
Erin Radebe, Long Reach High School
Tricia Walls, Bollman Bridge Elementary School