Kimberly Morales, World Language Teacher, Bryant Woods Elementary School
February 11th, 2016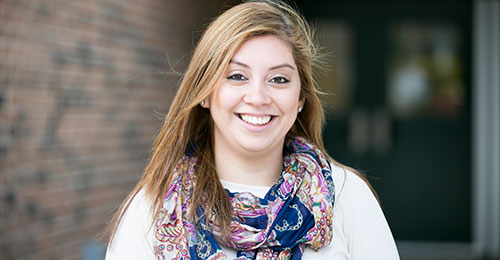 Kimberly Morales teaches Spanish to seven classes, Pre-K through 5th grade, at Bryant Woods Elementary School. With 90 percent of the class time spent speaking in Spanish, Morales explained that "in the classroom, we do a little bit of everything, including singing and dancing. There's a lot of movement and visuals. Gestures help. There are lots of opportunities to engage with the language through speaking, listening, writing and reading."
Morales loves helping her students grow and feels elementary students "need teachers that have patience, love, dedication, motivation and passion." She said her job is "exciting" and "fun" while she helps "open up the doors for my students to get the jobs that require speaking another language," understanding that "a person who is bilingual has a lot more opportunities."
Morales, who spoke Spanish growing up as her first language at home, is a strong advocate for learning a new language early, saying "The younger they are, the more they absorb and remember. When in Pre-K, your mind is a sponge, so you're soaking it all up." She continued with, "Learning a language developmentally helps my students in other subject areas. It teaches them to make connections and makes the brain work harder." She offers a risk-free environment because she said, "we're all learning together." Bryant Woods is one of eight elementary schools that has incorporated daily World Language instruction as part of the Elementary School Model.
Morales has grown professionally through a wide range of HCPSS educator positions. Before starting her current job last school year, she held roles, such as a kindergarten paraeducator; academic intervention paraeducator; special education paraeducator; and Black Student Achievement Program camp Spanish teacher, assistant site coordinator and academic mentor. Morales explained that by holding these varied positions, "I observed many teaching strategies. It helped me build knowledge of how to build relationships with students, even how to present a lesson. It helped me realize I'm meant to be a teacher."
Morales is an alumna of Wilde Lake High School and wanted to give back to the Howard County school community by teaching here. Morales recalls her high school experiences with, "The schools here were friendly and welcoming. The teachers were always well prepared, professional, excited to be at work and engaging. I remember sitting in history class and actually enjoying the class."
Morales shared she took part in the teen parenting program when in high school, where the teachers supported her dream to pursue teaching. "I decided to go into the teaching field because I saw the passion that many of my teachers had and their belief in me," Morales said. "I knew I wanted to be a teacher and knew I wanted to be where I felt supported and could grow." Her gratitude extends to all the administrators and teachers she's met along the way, including her Bryant Woods family.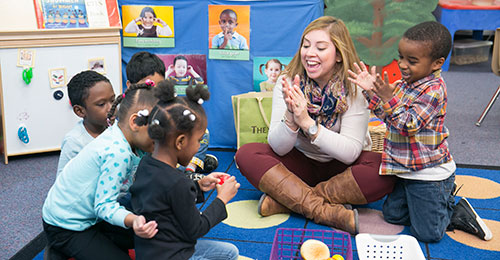 Her current role perfectly matches her University of Maryland, Baltimore County bachelor's degree in Modern Languages and Linguistics, with a concentration in Spanish and minor in Early Education. She learned about Elementary School Model Spanish teaching opportunities while finishing her degree and knew, "I want that!" She feels fortunate that she can make a difference at Bryant Woods, saying "Here they have a lot of Hispanic families, and I have seen the impact we have by being teachers who speak Spanish here. I can be a role model to the students, so I knew I was in the right place. I could impact the Hispanic community and other populations by giving them the opportunity to learn a second language and prepare for the future."
Bryant Woods Elementary School Principal Kelley Hough said, "Kim Morales is an outstanding World Language teacher who greets our students with a smile and an 'hola' each and every morning. She infuses her culture and makes learning Spanish fun for all of our students at Bryant Woods Elementary School. Mrs. Morales' drive and ambition allow her to continue challenging our students daily. Mrs. Morales not only teaches World Language, but she also teaches in the after-school Bridges program and along with the other World Language teachers hosted a Hispanic Night for our families."
Morales lives in Howard County with her husband and four children. She is currently pursuing a master's in leadership in special education from Notre Dame of Maryland University.