Staff Focus: Kimberly-Ann Wilson, Speech-Language Pathologist, Mount Hebron High School
January 5th, 2016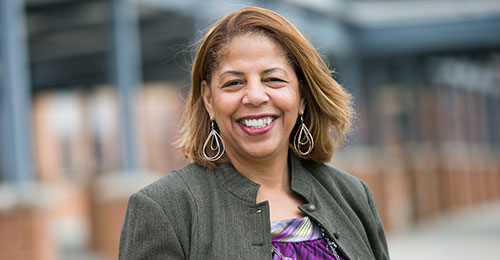 Kimberly-Ann Wilson describes the role of a speech-language pathologist as "working to enhance learning and quality of life opportunities, while developing individualized abilities for lifelong success to communicate within the world." As the sole speech-language pathologist at Mount Hebron High School, Wilson works regularly with 48 students, in the classroom or one-on-one, who need support in a variety of ways.
To ensure academic achievement based on Individualized Education Program goals, Wilson individualizes her approach with each student while building rapport with them and the teachers whose classrooms she visits. Wilson said, "Speech-language pathologists are always thinking and assessing. We're strategists. We go in and look at what the objective is that's being taught and where the student is. We strategize how to get them where they need to go. We have to be chameleons most of the time, needing to be able to fade in and out of classrooms and to diversify teaching strategies throughout the course of a day. I change colors all day depending on who I'm with and what the objective is."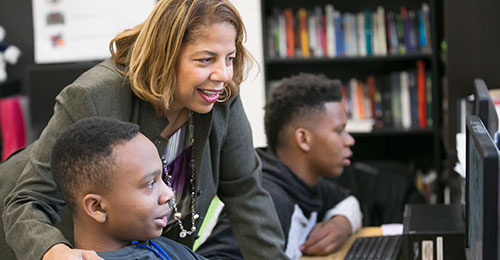 Wilson employs many methods to support her students, with no two days alike. On any day, you might find Wilson helping students with navigating the social environment of the lunchroom, with writing papers or by pointing out apps that can be used as educational tools. Wilson also offers her students theatrical opportunities, social interactions and fun through the afterschool program, Broadway Connections, a collaboration with Loyola University Clinical Centers and Columbia Center for Theatrical Arts.
Appreciation for Wilson's dedicated and innovative work can be seen with this parent's testimonial: "Ms. Wilson has been instrumental in the huge progress our son has made at high school on his social skills, comprehension and overall confidence. She has thought outside the box on approaches that would work best and has gone over and above in implementing them. Ms. Wilson has taken the time to understand our son. She has worked with and educated other teachers to help resolve specific issues. As our son says, 'I have to do what Ms. Wilson says as I know that she believes in me.'"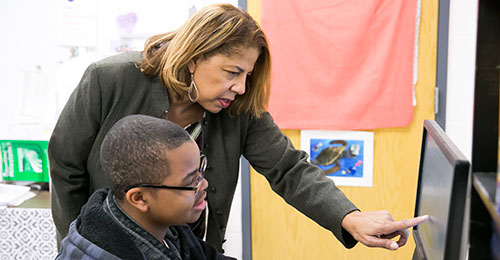 Wilson has worked at Mount Hebron for 5 years and is now a team level leader for HCPSS high school speech-language pathologists. The school system benefits from her three decades in the field. In addition to working with individuals with communication needs, Wilson has also managed programs, taught clinical college courses, coordinated grants, trained staff and led community awareness campaigns, and more, throughout her career.
Wilson's interest in speech-language pathology began when she was a high schooler in Rhode Island. She explained, "I have a passion for people and service. I'm a service-driven individual." Academically, she pursued this drive with a professional certificate in autism studies from Towson University, a speech-language pathology master's with a certificate in bilingual studies from Howard University and a bachelor's in speech-language pathology from South Carolina State University.
Wilson pulls from her graduate level bilingual studies while working with Mount Hebron's diverse student population with many linguistic backgrounds. "The beautiful part of Mount Hebron is that it's enriched with a lot of culture," Wilson said. "There are students here from all parts of the globe."
Mount Hebron Special Education Instructional Team Leader Brandon Garry acknowledged Wilson's impact on all her students, with "What makes Ms. Kimberly Wilson such an asset is her ability to find value and potential in each individual. As a speech-language pathologist, her vision is to prepare students with very unique needs (and parents) for life beyond high school both academically and socially. Her personal interest in her students' success fuels her professional practice. Ms. Wilson's impact is creating positive experiences for students and making the path to graduation possible."
Wilson says she feels most professionally fulfilled when she "see[s] the faces of the students and their parents as they confidently walk across the stage for graduation beaming with pride. My celebrating through their triumphs is what is the most rewarding for me."