Staff Focus: Jerard Rucker, Special Education Paraeducator, Hammond Elementary School
November 12th, 2015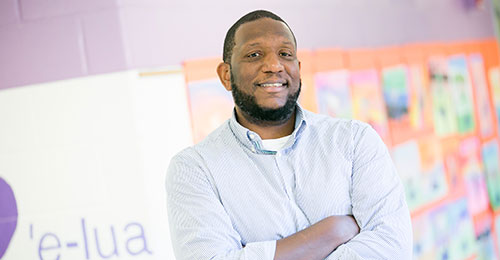 Jerard Rucker, special education paraeducator at Hammond Elementary School, supports the academic and functional growth of his students who have social, emotional or learning challenges. He works with a select number of first through fifth graders individually or in small groups to ensure they stay on task with assignments while assisting with teachers' academic instruction.
Rucker supports children with a range of challenges, each with their own Individual Education Program. However, he said they all have something very important in common: "They're all kids that are very capable of doing the work. They just need to be helped along." He said he fell in love with working with elementary age students because he can watch them grow and develop from kindergarten through fifth grade. He greatly enjoys helping the children have successful days. Rucker explained, "as long as we meet whatever goal the kid needs to meet, it's a success."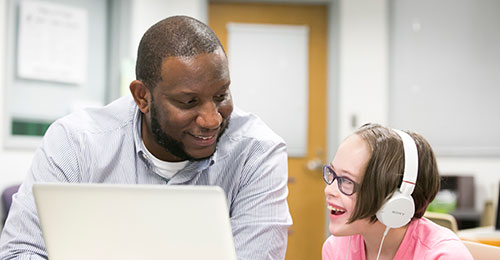 Rucker came to Howard County schools wanting "to work with children who wanted more out of life, to be educated and do positive things" and brought with him a professional background in mental health and social services. Previously he was a case manager in an East Baltimore clinic, assisting adolescents with mental health disorders with community resources, and a residential counselor at a group home, supporting youth males transitioning out of the juvenile system. He has a bachelor's in mental health from Morgan State University.
Rucker, who played basketball in high school and college, continues to take his passion for working with kids outside the classroom. He coaches Baltimore high school students through the Amateur Athletic Union's Team Melo, which provides support in academics and basketball, as well as runs his own basketball training business for youth. His involvement with basketball and paraeducator role are connected by "helping kids with self-esteem, confidence and social skills, which can help you in school and throughout life," Rucker said. "Kids have more self-esteem when they're trained [in basketball] and can feel themselves getting better."
Rucker credits his parents for teaching him about giving back to the community, which ultimately led to his current career. Both his parents worked in Baltimore city public schools and continue to help the homeless and those less fortunate.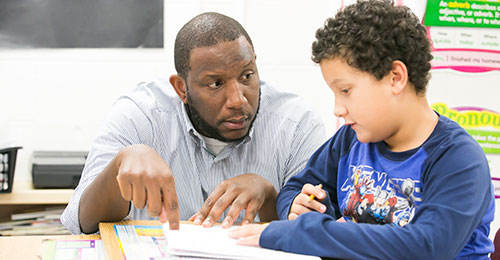 Rucker has been with the school system for three years, first at Cradlerock Elementary School and now in his first year at Hammond. He has appreciated the structured and collaborative environment at both schools, saying "The administration is fantastic and supportive here. There's great teamwork amongst the staff."
Hammond Elementary School Principal Kimberlyn Pratesi expressed her appreciation of what Rucker has been able to accomplish, even within his first few months at the school, with, "He's been here a very short time but has made such a great impact thus far on the students. He has a wonderful ability to connect and build relationships with children. It's been very beneficial for us to have someone who can help build on their strengths and be encouraging."
Rucker is just one of many Howard County school staff employees who support students' academic achievement. In anticipation of National Education Support Professionals Day on Nov. 18, Pratesi said, "I've been with the school system for 26 years, and I've always believed paraeducators are critical to our success by providing such great support. They're often our unsung heros in the building, but a day doesn't go by that we couldn't do what we do without our paraeducators."
« Veterans Elementary Annual Salute to Veterans
Parent Academy – Navigating Technology with your Child, Nov. 21 »