HCPSS Program Creates Path for Paraeducators to Become Teachers
May 24th, 2023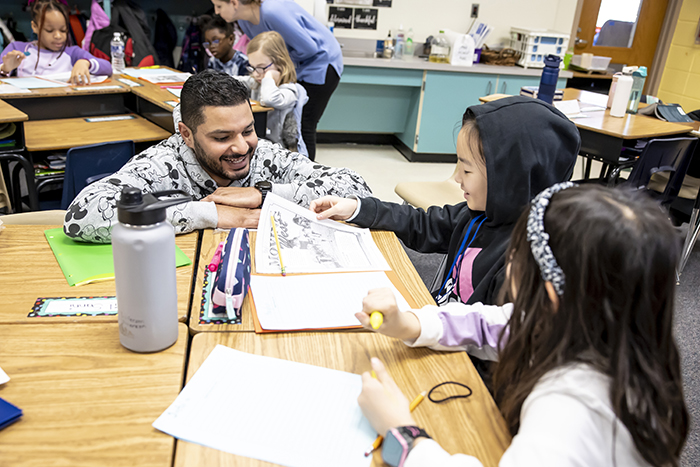 HCPSS paraeducator Irfan Dean has always been interested in teaching. But when he decided he wanted to pursue a teaching degree, he found his options were limited.
"Quitting my job to take classes wasn't an option for me. If I was going to become a teacher, I had to find a program that would allow me to continue working and earning money," he recalls.
Paraeducator Miles Blount was in a similar situation. As much as he wanted to become a teacher, he wasn't in a position to leave his job and focus exclusively on his studies.
Like Dean and Blount, Mari Soo-Tho, who was then a paraeducator at Worthington Elementary School, had aspirations of becoming a full-time teacher.
Dean, Blount, and Soo-Tho were pleased when they discovered that HCPSS offered teaching programs – one undergraduate and one graduate – in conjunction with Towson University that were specifically designed with HCPSS staff like themselves in mind.
The three-year programs are focused on special education and enable participants to earn both a degree and a teaching certificate–all while they continue to work as full-time paraeducators. Classes are offered virtually and at locations in Howard County, helping to support working adults and eliminate the need for program participants to travel to Towson. Participants are provided with electronic devices to facilitate their education. And the program tuition is covered by HCPSS, meaning participants only have to cover the cost of textbooks and fees.
The benefits of HCPSS' para-to-teacher program don't stop there, Blount says.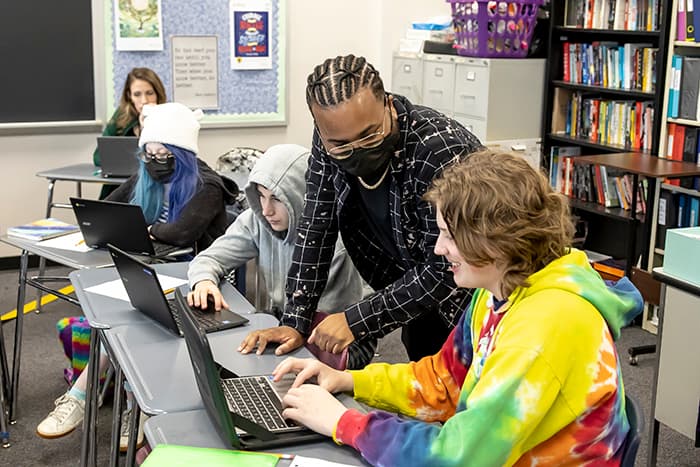 "The information I learn in class is directly relevant to my current job, and I am able to draw on experience as a paraeducator in my classes. It makes everything I learn feel relevant to what I am doing now and what I want to do longer-term."
Soo-Tho and Dean feel similarly.
"Everything I do at school and at work is connected. I can use what I am learning now and in the future," says Soo-Tho, who was able to be hired as a provisional teacher at WOES thanks to her enrollment in the para-to-teacher program.
"What we read and discuss in classes is brought to life when I go to work," notes Dean. "And what I experience at work I can bring into class discussions and projects."
The para-to-teacher program also affords its participants the opportunity to build meaningful professional relationships, say Blount and Soo-Tho.
"It's so rewarding to be surrounded by people who share my interest in education and are motivated to work hard. We learn from each other and encourage each other to become better professionals," Blount says.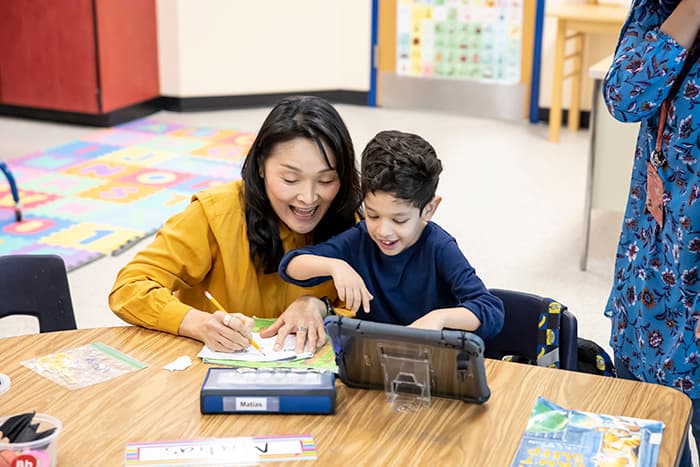 "My classmates are great, as are my professors," notes Soo-Tho. "They are all there to support me and help me become a great teacher."
It's the combination of all of these benefits – the schedule, the relationships, the overlap between school and work – that made HCPSS' para-to-teacher program a win for Dean.
"It's like all the puzzle pieces fell into place," Dean recalls.
To date, 18 HCPSS paraeducators have earned their master's in teaching from Towson University through the para-to-teacher program. Seventeen have been hired as full-time teachers and are currently working in HCPSS schools.
An additional twenty-three HCPSS paraeducators have earned their undergraduate degree and certification in elementary education from Bowie State University, becoming the first undergraduate cohort and the second cohort over all to ever complete the HCPSS' para-to-teacher program. They are now eligible to become full-time teachers in the county.