Growing Friendships and Produce in the Caring Crops Community Garden
May 22nd, 2023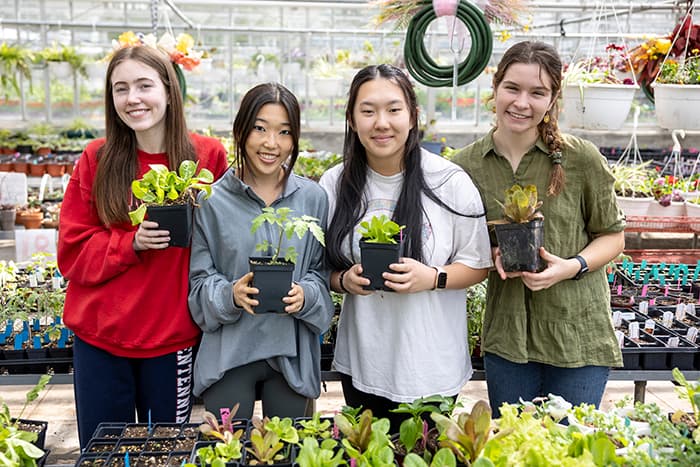 Last year, students from Centennial High School (CHS) approached the administration at the Applications and Research Lab (ARL) to discuss using the space next to the greenhouse to establish a Zero Hunger Hub garden.
The program is part of Global Co Lab Network, a larger organization that empowers youth ages 13–35 with a focus on the United Nations Sustainable Development Goals, one of which is addressing hunger. Rebecca, a CHS senior, has been part of the Global Co Lab's Zero Hunger Hub since her sophomore year when there was a community garden established in Arlington, Va.
Leah, also a CHS senior, joined the Zero Hunger Hub shortly after Rebecca and was inspired by the work the group was doing. Since they were both located in Ellicott City, they decided to start up a local garden. As the pair started to search for space, they were able to secure a garden plot at the HCPSS Applications and Research Laboratory (ARL). They also were able to secure funding for the garden from Youth Service America's Sodexo Stop Hunger Foundation Youth Grant and the Karma for Cara Foundation.
Once the space at ARL was identified, they had to determine where to donate the produce they'd grow and landed on the HCPSS Homewood Center, located on the same property. Throughout their first growing season in the fall, the Homewood Center's food pantry received regular donations totaling 15 pounds of fresh produce. They already have planted vegetables for spring and summer growing and will continue to donate to Homewood as produce is harvested.
Homewood Science Teacher Gayatri Suresh, who also is an avid gardener, serves as a mentor and a partner to the CHS students, sharing gardening tips and bringing Homewood science classes to ARL last fall to get hands-on experience working in the garden.
"My students loved coming here," says Suresh. "I would bring them whenever I had time and they harvested and cleared weeds and I'm happy to see they've made connections."
With ARL and Homewood being so close to each other, it creates a circular economy, allowing Homewood students to participate in the process and benefit from the produce grown at the same time.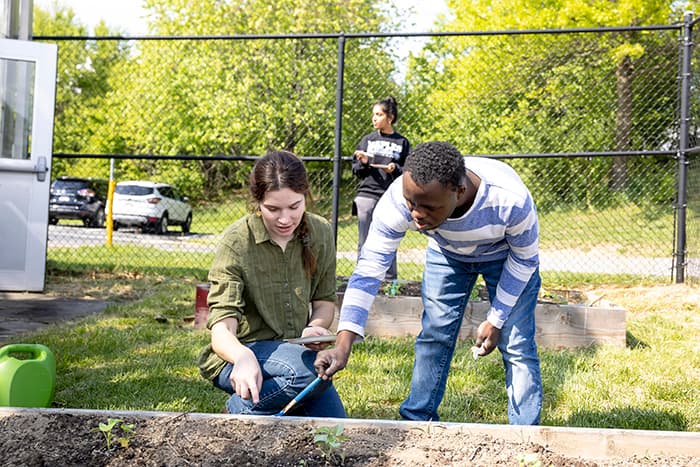 In addition to students from CHS and Homewood working in the gardens, students from the Employment Training Program at the ARL have gotten involved as well.
Stephanie Hayes, a resource teacher with the HCPSS Department of Special Education, noticed the CHS students working in the garden last fall and approached them to see if they could use some help. Hayes' students, many of whom have disabilities, regularly work in the ARL greenhouse and Hayes knew her students would benefit by working in the garden as well.
"Each week, I am overwhelmed by positive emotions when I see this collaboration. For the students in this program, they look forward to when their friends will be there to work each week," says Hayes. "It's the highlight of their week to work side by side with their peers, create friendships and feel the impact of inclusion. The students don't see the peers as just there to support, they are there just as they are to work side by side and spend time together." 
Students in the Employment Training Program intern with community organizations such as Freetown Farm, Columbia Community Cares and Howard EcoWorks. By working in the Caring Crops garden alongside their peers from CHS and Homewood, they have learned valuable skills like communication, teamwork, problem solving and self-advocacy in addition to honing their gardening skills and learning to sustain plants. All of these skills transfer to their work with these community organizations.
Beyond this project offering all students involved the opportunity to serve their community, it's also given them the chance to forge friendships and to grow and learn alongside students from other schools who wouldn't have met if it weren't for the garden.
"The garden here is really inclusive. The community's amazing. I love the people here and I think this place is a really great place to be," says Isabella, a CHS sophomore Green Club member.
Maria, a CHS senior who also is a Green Club member remarked that participating in the garden has allowed her to meet a whole new community of students and that "being able to garden with them has been really fun and eye opening."
"As our students transition to the world of work, it's important to transition their mindset from teacher/student to peer/coworker," explains Hayes. "What these students have created is a culture for inclusion that we need to continue to foster through all opportunities in our county. I'm sure the CHS students would agree when I say that this collaboration isn't just beneficial for our students in special education, but it has a huge impact on all of the volunteer student and the staff as well."
While Rebecca, Leah and Maria all are graduating this May, they know the garden will continue to grow through all of the volunteers who've gotten involved from CHS, and with the continued support of the students from Homewood and the ARL.
Students from other schools who are interested in learning more and/or about getting involved with the garden, can reach out to Hayes at Stephanie_Hayes@hcpss.org.