Oakland Mills HS Food Pantry Brings School and Community Together to Help Local Families
January 4th, 2023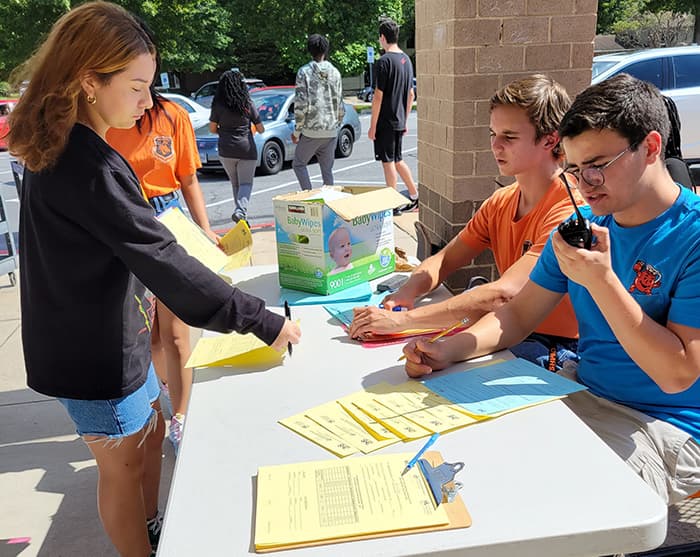 Once a month, community members' cars line the Oakland Mills High School (OMHS) parking lot. Each one awaits the opportunity to collect food and supplies from the school's food pantry.
Established in 2017, the OMHS food pantry began in response to an OMHS student's independent research project revealing significant food insecurity in the community. It has since evolved into a large-scale, year-round operation, bringing together the Howard County Food Bank, Wegmans, as well as various OMHS student groups and staff to collect and distribute non-perishable food items, produce, diapers and wipes to families in need.
"We have an algebra class that bags up donations; we have honor societies who rotate our stock, sort through donations and put items on shelves; we have teachers who shop for and bring in food and supplies and deliver them to families in need who don't have transportation," says Niklas Berry, who teaches history at OMHS and is one of the food pantry's lead organizers.
"It really is a full school project," adds OMHS world language teacher Ashleigh Magrin, who manages the day-to-day logistics of the food pantry. "And we are constantly exploring ways to involve more students and staff."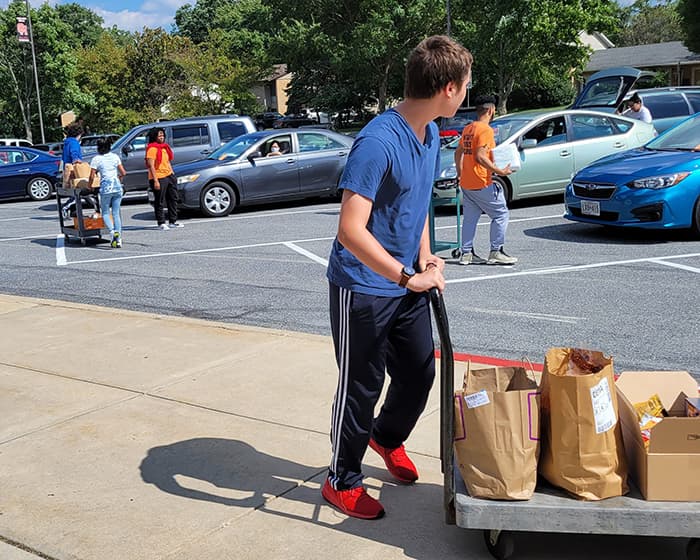 OMHS' Junior Reserve Officers' Training Corps (JROTC) cadets are among the school groups that are most actively involved in the food pantry. Led by OMHS juniors Peter Farley and Maks Schwartz, the cadets manage the distribution of food and supplies, gathering and fulfilling orders and ensuring that everyone who comes to the food pantry leaves with the appropriate items.
It is a challenging job, involving extensive coordination between volunteers who are organizing supplies inside the OMHS building and those who are relaying the supplies to individual cars. The fact that the food pantry runs primarily on donations creates an additional layer of complexity, Farley says.
"We can't fully control which items we receive or how much of each item we receive. Unfortunately, that means that we sometimes run out of certain things like diapers and wipes, which are in high demand."
Nonetheless, thanks to years of experience, the development of strong partnerships with local businesses and organizations, generous donations from community members, and a core group of dedicated volunteers from both within and outside OMHS, the OMHS food pantry has established itself as a reliable and efficient operation.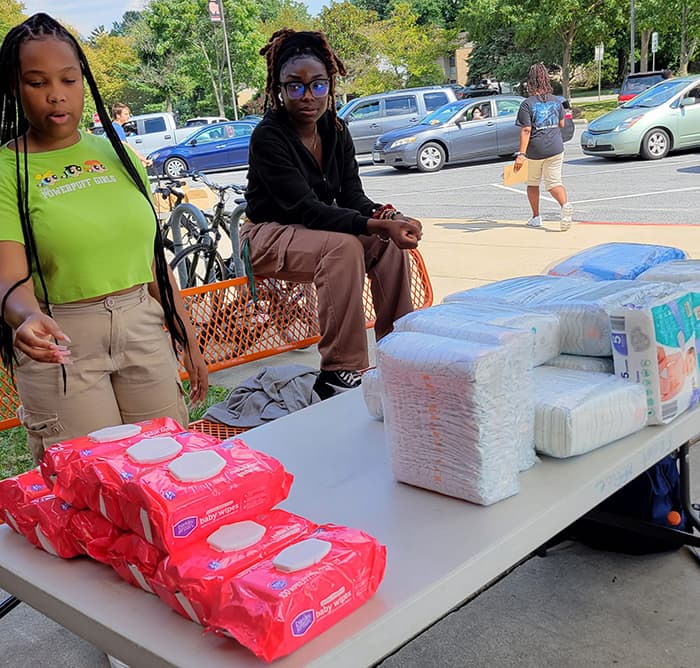 "It runs like a well-oiled machine," says Chief Master Sergeant (Retired, U.S. Air Force) Robert Castellano, who oversees the OMHS JROTC program and the cadets who work on the food pantry.
Since the pantry re-opened after the COVID closure in September 2020, the OMHS food pantry has served over 2,000 families, amounting to more than 9,700 individuals. This school year, the pantry has served almost 500 families, including 130 families in December alone.
"It feels really good to help out people in our community," Farley says.
Schwartz agrees. "I am glad we're able to help families get what they need and make their lives a little easier."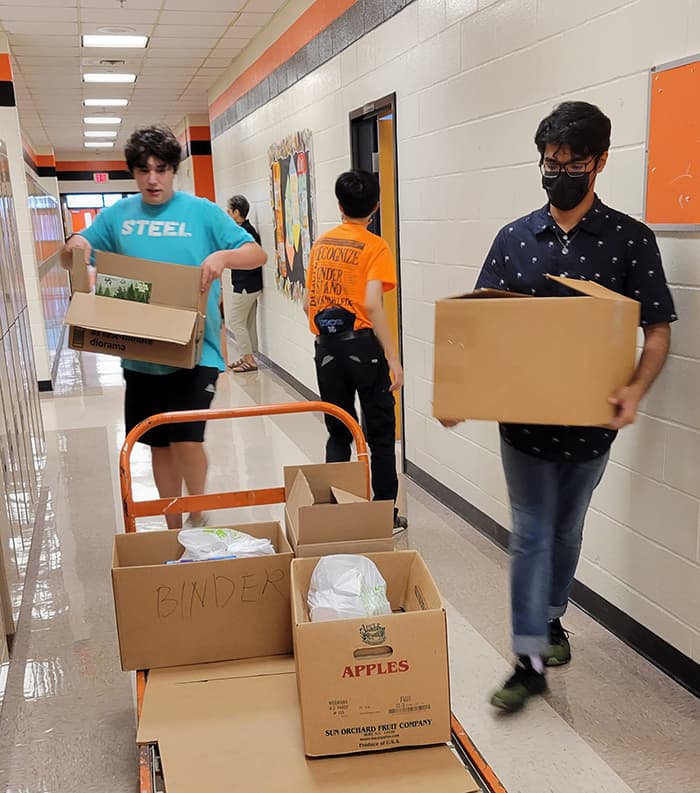 For OMHS Principal Jeff Fink, the food pantry exemplifies the role OMHS plays in the community.
"[The food pantry] represents what OM is. We are the hub of our community. We are there for each other and help each other in any way we can."
No registration is required to collect food and supplies from the food pantry. Families in need can simply show up on the designated distribution day.
OMHS continually accepts donations of non-perishable items, diapers and baby wipes as well as monetary donations. OMHS also maintains an Amazon Wish List from which people can purchase goods to donate. Items purchased from that list will ship directly to OMHS.
Additional information about the OMHS food pantry, including upcoming distribution events, can be found online.