Howard Community College Student Theatre Presents "Miss Electricity" to HCPSS Elementary Schools
January 26th, 2023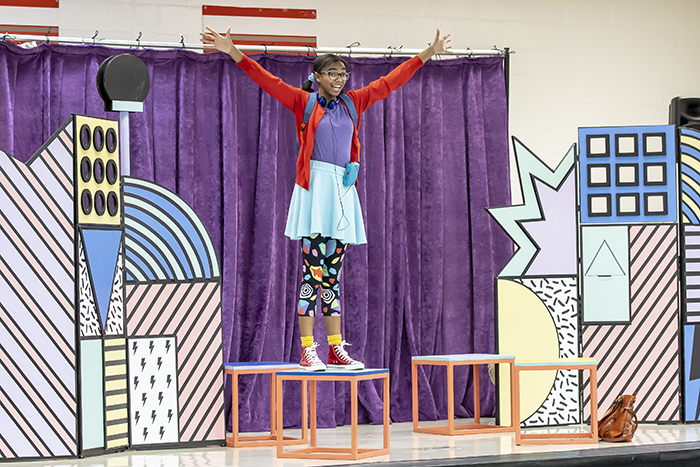 Howard Community College's (HCC) Student Theatre partnered with Howard County Public School System (HCPSS) to present children's theatre production "Miss Electricity" at select elementary schools. In the production, ten-year-old Violet is determined to show the world how special she is, and becomes accidentally extraordinary when she's struck by lightning – twice – and gains control over all things electric.
Now in its 5th year, HCC Student Theatre brought its touring children's theatre production to ten elementary schools during its 2022-2023 season. The tour included seven HCC Theatre students who performed two shows at each of the participating schools.
"It's a pleasure to offer these exciting performances for Howard County elementary school students," says HCC Chair of Theatre, Dance and Audio Video Production Bill Gillett. "Not only is this an excellent and supportive educational opportunity for the children in the audience, but the touring experience is also an amazing experiential learning opportunity for the college-student performers."
"HCC's children's theatre production of Miss Electricity was a wonderful experience for Talbott Springs Elementary School students," says Principal Nancy Thompson. "The talented performers encouraged imagination and creativity through their relatable and engaging show. We are grateful for this partnership that exposes children to new artistic experiences."
The HCC Theatre Department is devoted to offering relevant and educational on and off stage experiences for students and community members to augment classroom learning and provide valuable performing opportunities. It is in this vein that the program offers additional works throughout the year, which include fall and spring plays and musicals, touring children's theatre, showcases, and outdoor Shakespeare performances. Led by a professional theatre faculty, students are well-prepared for a future in theatre.
The Howard County Public School System's Partnerships Office has united schools with more than 1,000 businesses and community organizations to enhance the educational experience of Howard County students. Partnerships benefit schools, businesses and the entire community by leveraging the resources of all participants. Partners may commit human or financial resources or other support.