"Get to Know HCPSS" Virtual Teacher Recruitment Event, Jan. 26. 2023
January 10th, 2023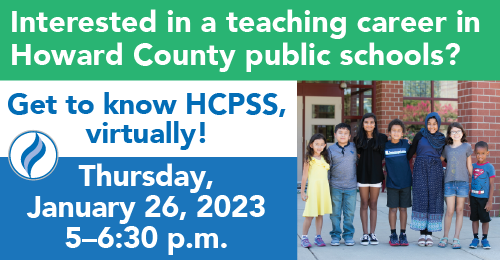 Jan. 24, 2023 Update: Registration for this event is now closed. Another "Get to Know HCPSS" event will be held in the near future.
Howard County Public School System (HCPSS) will host a virtual teacher recruitment event on Thursday, Jan. 26 from 5-6:30 p.m. The event, "Get to Know HCPSS," will provide attendees the opportunity to virtually meet with current teachers and leaders in HCPSS and learn what it is like to teach in a school system that values diversity, equity, academic success and social emotional well-being. Attendees will also have the opportunity to hear from, and participate in a question-and-answer session with a panel of guest speakers, including:
Ella Bradley: Coordinator, HCPSS Human Capital Recruitment, Retention, and Talent Acquisition
Rachel Edoho-Eket: Principal, Waverly Elementary School
Jen Olson: Facilitator, HCPSS Office of Teacher and Paraprofessional Development
Stephanie Schmid: Kindergarten Teacher, Rockburn Elementary School
Interested attendees should register online. The Google Meet link for the event will be sent in confirmation email.