Blessings in a Backpack Program Provides Weekend Food for Thunder Hill Elementary School Students
December 14th, 2022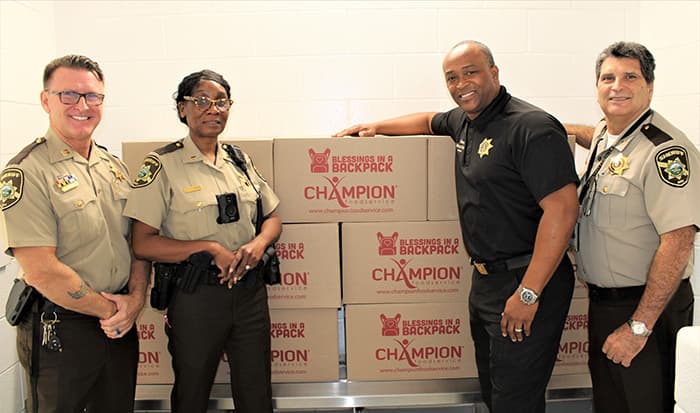 Thunder Hill Elementary School (THES) has partnered with Blessings in a Backpack and the Howard County Sheriff's Office to begin a weekend food program for THES students. Launched in October, the program is providing packs of non-perishable weekend snack foods for 125 students. The program provides food packs to students every Friday during the school year at no cost to families.
The program is supported by an annual donation from the Hankin Family Charitable Foundation in memory of their mother and wife, Cindy Hankin, who was a Howard County Public School System (HCPSS) educator and principal. The Sheriff's Office serves as program coordinator by collaborating with Blessings in a Backpack and THES staff to place and store food orders and provide weekly food deliveries to the school.
Read more about the Hankin Family Charitable Foundation's donation.
Blessings in a Backpack mobilizes communities, individuals, and resources to provide food on the weekends for school-aged children across America who might otherwise go hungry. Blessings in a Backpack is offered at 10 HCPSS schools through the support of volunteers and community partners.
The Howard County Sheriff's Office works to ensure the preservation of a positive and professional working relationship between law enforcement and the community it serves. It builds and strengthens relationships with Howard County residents through its community outreach and service programs.
The HCPSS Partnerships Office has united schools with more than 1,000 businesses and community organizations to enhance the educational experience of Howard County students. Partnerships benefit schools, businesses and the entire community by leveraging the resources of all participants. Partners may commit human or financial resources or other support.