HCPSS to Expand School-Based Mental Health Services for Students
October 4th, 2022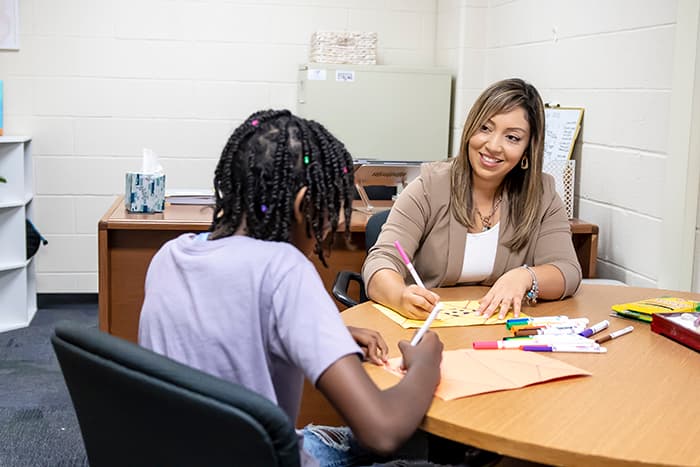 With funding from Howard County, as well as grants from the Horizon Foundation and the Kahlert Foundation, the Howard County Public School System (HCPSS) is expanding its school-based mental health services. Previously available in 45 schools across the county, these services will be available at all HCPSS schools by the end of the first semester of the 2022-23 school year. The services, including therapy provided at school buildings during the instructional day, are provided by HCPSS' school-based student services teams in collaboration with community mental health agencies.
"The goal of school-based mental health services is to eliminate barriers to access," explains HCPSS Student Support Programs Coordinator Kami Wagner. "By expanding these services and making them more readily available to our students, HCPSS is elevating and acknowledging the importance of mental health and the need to address it in schools."
Additionally, Wagner says, school-based mental health services help to destigmatize mental health treatment and normalize the process of receiving mental health support. They also help to ensure that students have ready access to the support they need to maximize their academic success and well-being.
"Teaching students about the importance of mental health, how to advocate for themselves, and how to navigate mental health systems, helps students get through hard times and bumps in the road while they are in school and equips them with valuable exposure to and experience with mental health services that can serve them in the long term," Wagner says.
As part of the expansion of its school-based mental health services, HCPSS has increased the number of school social workers from 9 to 18. The social workers will primarily be housed at HCPSS' middle schools, but will serve clusters of feeder schools.
Increasing the school social work staff has a range of benefits, says Consuela Robinson, HCPSS' Instructional Facilitator of Social Work.
"In the past, our staffing capacity significantly limited the range of student needs we could address. With this additional capacity, we will be able to help students who have previously been underserved," Robinson adds.
At the same time, she says, the expansion of the social work staff will help to address the uptick in demand for mental health support that has arisen during the pandemic.
"Social workers play a key role in the student support team. In addition to being able to coordinate and deliver therapeutic services, they bring a clinical lens that helps to identify the underlying cause of a given problem or issue and inform the steps taken to address it. They also help to educate teachers about how to recognize and respond to signs of trauma. At a time when so many of our students have experienced trauma due to COVID, having additional social workers on hand is essential."
Additional information about HCPSS school-based mental health services and school social work services is available online.