HCPSS Alum Thrives By Supporting School Community
October 18th, 2022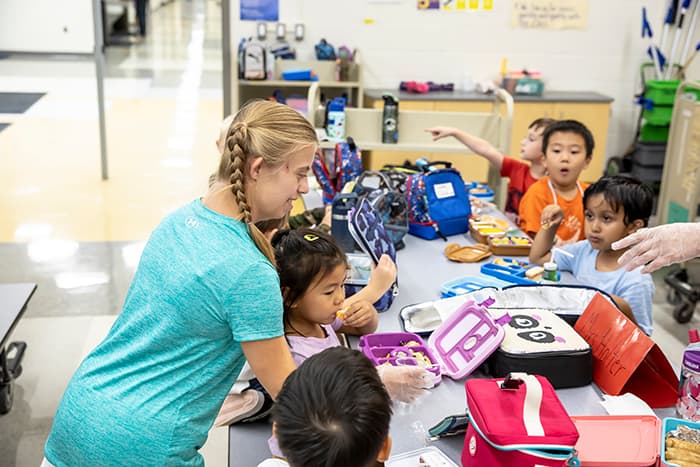 Maureen Gilbert has always wanted what was best for her daughter, Catherine, who was born with special needs. When Catherine was young, that meant registering her for various special education services in Howard County and enrolling her in the Regional Early Childhood Center (RECC) program at Waverly Elementary School (WAVES). As Catherine grew older, it meant helping her get involved in activities like dance, cheerleading, and theater, where she could spend time with a mix of typically developing and special education students who shared her interests.
When Catherine completed her high school certificate at Centennial High School (CHS) last spring, Maureen again found herself thinking about what would be best for Catherine. At age 21, Catherine was no longer eligible for HCPSS special education programs and services. Although there were a variety of options available, Maureen knew that for Catherine to really thrive would require an inclusive environment where she would feel supported and needed.
Maureen recalled that during high school, Catherine loved her time in Howard County Public School System's Career and Community Exploration Program, which provides special education students the opportunity to work at various locations with the support of HCPSS staff. During her time with that program, Catherine was assigned to work as a lunch monitor at WAVES, where she helped clean tables, assist students with opening and closing containers, and perform other tasks to help the lunchroom staff. Through what she learned as part of the CCE program, she went on to work at churches, a gym, restaurant, hair salon and HCPSS' Applications and Research Lab—and always looked back fondly on her time at WAVES.
Knowing how much Catherine enjoyed working at Waverly, and how much she valued her social ties to CHS, Maureen reached out to administrators at both schools to see if there were volunteer opportunities for Catherine.
They were immediately on board, Maureen recalls.
"When Maureen called to ask if we would be amenable to having Catherine volunteer at CHS, my response was an immediate 'yes,'" says CHS principal Cynthia Dillon. "We believe that our students and staff remain family even after they leave the nest."
Working with the administrators and an agency affiliated with the Maryland Developmental Disabilities Administration, Maureen arranged for Catherine to help out at both schools each week.
The experience has been wonderful, Maureen says.
"The [staff and students] at both schools make Catherine feel so welcome. They genuinely want her there and are eager to help her succeed."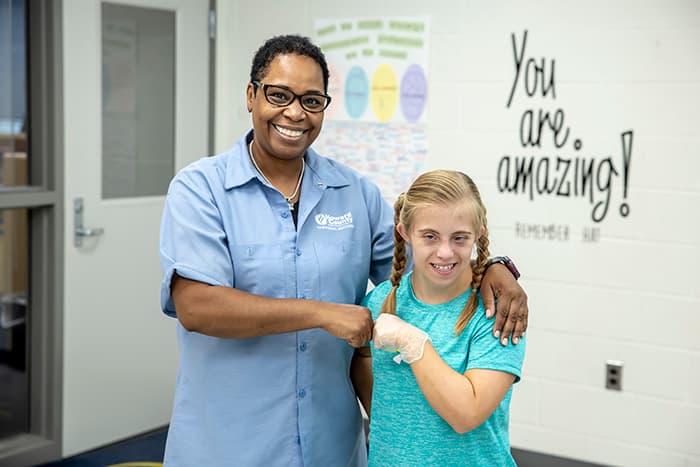 Wendy Cain is one of those people. Cain worked with Catherine when she as a CHS student in the Work Enclave Program. Now, in her role as the Custodial Day Supervisor at WAVES, Cain is again working with Catherine.
"Catherine is such a hard worker and such a big help to me. She wipes down tables, helps students who need assistance, and is there to keep things running if I get called away to handle an issue somewhere else in the school. Having her there makes everything in the cafeteria go more smoothly."
Plus, Cain says, Catherine has a great rapport with WAVES students.
"Catherine talks to everyone and loves helping out, especially with the younger students. She knows all their names and they know her."
"Catherine always wears a bright smile when she comes to Waverly," adds WAVES Principal Dr. Rachel Edoho-Eket. "We are grateful that she is building upon the special relationships she's fostered within HCPSS to volunteer to give back to children."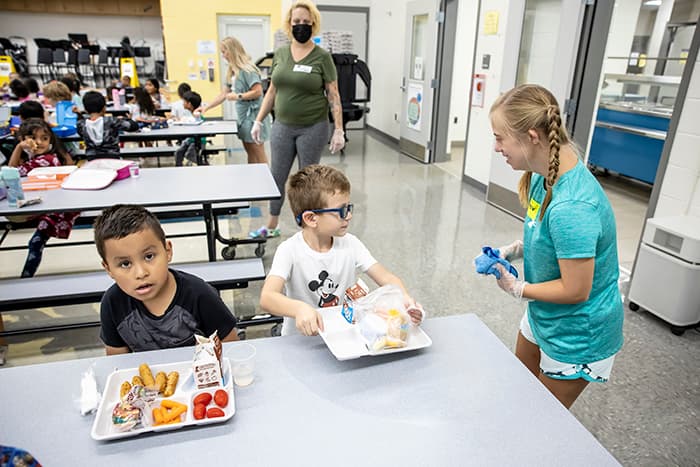 Volunteering at CHS has also enabled Catherine to stay socially connected, her mother says.
"Catherine made so many friends during high school. It's been great for her to be able to keep those friendships going by being in the school."
As Dillon notes, "Catherine was, and remains, a well-loved Centennial Eagle. It's a joy to be able to watch her continue to grow and develop confidence as she finds new independence and success through her volunteerism."
"We are so proud of Catherine. During her time at Centennial, she was committed to growing as a person and in her job skills. She worked hard and advocated for her own needs. We love seeing her thrive as a volunteer in the county now," adds Lizz Engle, who teaches Academic Life Skills at CHS.
CHS Custodian Day Supervisor Allen Anderson additionally works closely with Catherine. He notes that "[she] is always a joy to be around. I enjoy having her positive spirit as a volunteer."
Catherine's volunteer work also has given her an important sense of purpose, Maureen says.
"Catherine loves to be helpful. Volunteering gives her a reason to get up every day, have a schedule, work hard, and make a difference in other people's lives."