Talbott Springs Community Celebrates Opening of New School
September 7th, 2022
Hundreds of students, staff, families, community members and special guests attended a ribbon-cutting ceremony last month to celebrate the opening of the new Talbott Springs Elementary School building.
The ceremony was a culmination of many years of advocacy and efforts by Talbott Springs families, Principal Nancy Thompson, Howard County Public School System staff, and County and State partners. The Oakland Mills High School band lent their talents and spirit to enhance the excitement of the ceremony.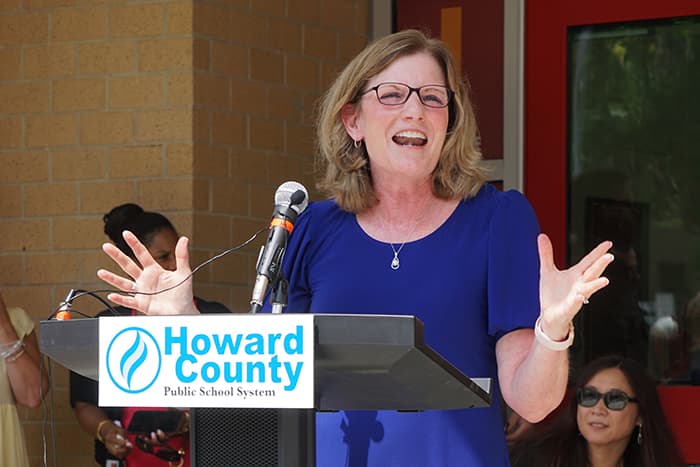 Talbott Springs Principal Nancy Thompson greeted guests at the new school ribbon cutting
"I was thrilled to celebrate the opening of the new Talbott Springs Elementary School with its students, staff and families," said HCPSS Superintendent Michael J. Martirano. "This was years in the making and it would not have been possible without the support of our Talbott Springs families, the Oakland Mills community and our county and state leaders. I look forward to seeing our students, staff and families walk the hallways of this beautiful building."
"This is such a joyous day for this community as I know Talbott Springs families have been eagerly waiting and watching to see the construction of this building," said HCPSS Board Chair Vicky Cutroneo. "This celebration was a wonderful way to bring together students, current and former staff, families, alumni and community leaders to open the new building and usher in a new school year."
"This wonderful community deserves this beautiful new building and I know it will serve as a place where every student and staff member may thrive, said HCPSS Board Vice Chair Antonia Watts. "I appreciate all of the efforts of everyone involved to ensure this necessity became a reality."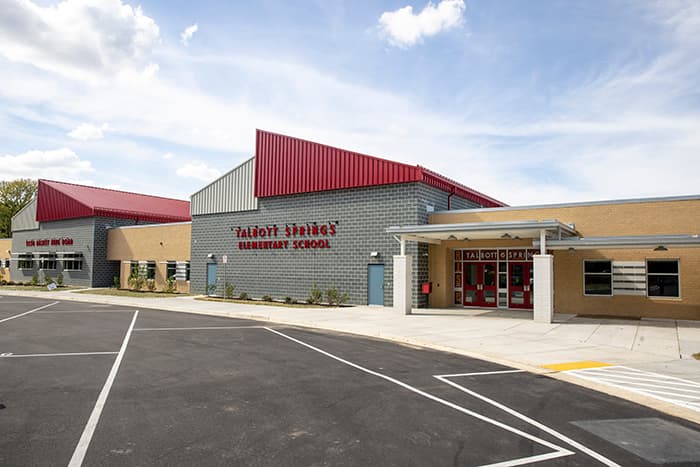 "Howard County is the best place to live, work, play, and grow for all, which is why families choose to raise their children here," said Howard County Executive Calvin Ball. "As the father of daughters who both attended Talbott Springs Elementary School, the opening of this new school is especially exciting as our community starts its 50th year with TSES. Through our work together, we are building facilities that will foster excellent teaching and learning environments for all, and I cannot wait to see the new heights our Eagles will continue to reach in this brand-new facility."
The original one-story school building was replaced with an 88,229 gross square-foot two-story facility that addresses facility and programmatic needs. The $31 million building is designed to accommodate 587 students in prekindergarten through fifth grade.
Talbott Springs is the latest example of HCPSS' commitment to sustainable and energy efficient construction and design, containing features that align with U.S. Green Building Council LEED (Leadership in Energy and Environmental Design). The project was designed and is anticipated to receive a Silver designation.