Intern/Mentor Program Provides Students with Unique Skills and Experiences, Preparing Them for Post-High School Success
June 6th, 2022
What if you could study any topic you were interested in and get hands-on work experience in the process?
That's exactly the experience students in HCPSS's Gifted and Talented (G/T) Intern/Mentor program receive, says program Coordinator Debbie Blum.
Open to high school juniors and seniors, the year-long, credit-bearing course enables students to work with a mentor in the community to identify a problem or question on a topic of the students' choosing, conduct research, and make a meaningful contribution to the field of study. In the process, students gain a deeper understanding of their research topic, build a variety of highly transferable skills (i.e. writing, researching, analyzing data, delivering presentations, etc.), make professional connections, and gain valuable insights into their own skills and interests, helping them to make informed decisions about what they wish to pursue after they graduate.
What makes the Intern/Mentor course so unique is that it is customizable, Blum says.
"Students can literally explore any topic that interests them. We've had students study everything from video production to animal rehabilitation. It's their opportunity to dig deeper into a subject that they are passionate about–and to work with a mentor who shares that passion."
Below, learn about several of HCPSS' past and present G/T Intern/Mentor students through excerpts from interviews with them about their internship experience. Also learn about a current G/T mentor, who sees the program as a win for himself and the students he works with.
More information on the HCPSS G/T Intern/Mentor Program, including details eligibility and on how to apply, is available online. Community members interested in becoming a mentor should email Debbie Blum.
Krishna Jaladanki, River Hill High School '22
Post-high school plans
: Attending the University of Pennsylvania
Mentor: Dr. Stephen Grill, a movement disorders neurologist and Associate Professor at Johns Hopkins School of Medicine
Research question/topic: What correlation exists between handedness, dominant-side Parkinson's Disease onset, and long-term disease prognosis, and how can this improve clinical treatment of Parkinson's Disease?
Reflections on his internship experience
:
"I have gained so much hands-on experience and so many new skills through Intern/Mentor, not to mention greater insights into what I want to study in college. I also feel much more confident about attending college, because I know how to conduct research, analyze data, and communicate my findings with other people."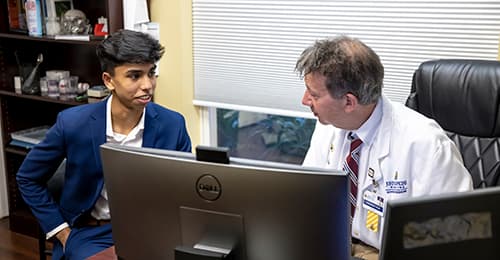 Navya Kunadi, Marriotts Ridge High School '22
Post-high school plan: Attending Cornell University
Mentor: Dr. Betty Tyler, Johns Hopkins Hunterian Neurosurgical Laboratory
Research question/topic: How effective are nanotechnology and other nontraditional treatments in treating brain tumors and brain cancer?
Reflections on her internship experience
:
"Intern/Mentor has taught me to be a much more independent learner and a better communicator with my peers and professionals.
"I previously thought about medicine in a very narrow way. I now understand that medicine is much more than doctors and nurses; it is chemistry, physics, technology, engineering … Knowing this has helped me realize that there are so many ways that I can influence and contribute to the field of health care."
Tunmise Eboda, Wilde Lake High School '22
Post-high school plan
: Attending a four-year university
Mentor: Dr. R.D. Vispute, Blue Wave Semiconductors
Research question/topic: How to rebuild BlueWave's website to make it more user-friendly, present updated information, and market the company's products.
Reflections on his internship experience
:
"In a regular class, you might be one of 30 students working with one teacher. As a G/T intern, you get to work one-on-one with a mentor, which means you get more focused, individualized attention.
"Through my internship, I have made professional connections that I can reach out to when I need help–today and in the future."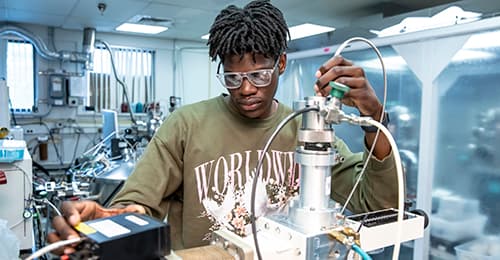 Jessica Kempner, Wilde Lake High School '15
Current occupation
: Third grade teacher and G/T mentor, Phelps Luck Elementary School
Mentor: Running Brook Elementary School teacher Melissa Peyton
Research question/topic: What is the difference between Common Core and traditional educational standards?
Reflections on her internship experience
:
"My mentor didn't just let me be an observer. She let me run game-based activities to extend student learning."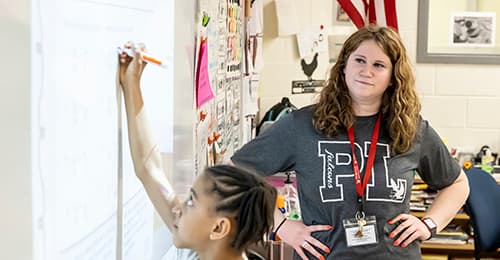 Chris Stanton, Glenelg High School '02
Current occupation
: Deputy Director of Emergency Management, University of Maryland, Baltimore; member of the Laurel Volunteer Fire Department (VFD)
Mentors: Peter McCabe, Maryland Search and Rescue; Warren Stanton, Laurel VFD; Allan Kittleman, then Howard County Councilman for District 5
Research question/topic: Critical Incident Stress Management, Local Government, and Volunteer Fire Service
Reflections on his internship experience
:
"The Intern/Mentor program gave me the opportunity to see and do things I could never have done in the classroom. It helped me make connections and apply what I learned to the real world. It also made me realize that emergency management was the field I wanted to work in long-term."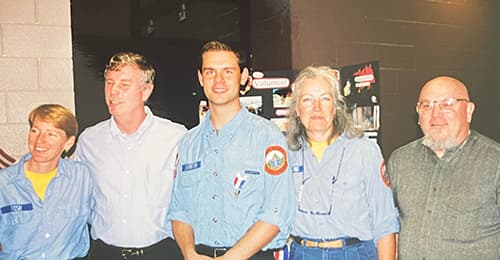 Dr. Ratnakar (R.D.) Vispute, Founder, Chief Executive Officer, and Chief Technology Officer, Blue Wave Semiconductors
Why he mentors
: "As a company, we believe we have an obligation to involve and give back to our community. For me, that means working with students to help them discover and reach their full potential. It also means sharing the skills and lessons I have learned with the next generation, so they are ready to take over and lead when the time comes."
How his company benefits from interns: "Students add so much value to our work, including bringing fresh, open minds to the problems and projects we put before them. They help us see things from new perspectives and come up with ideas we might not otherwise have considered."